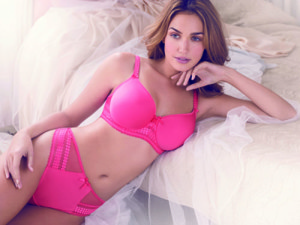 Do you like lingerie? And have you ever tried buying lingerie online? I don't know any woman who doesn't like the idea of owning a new lingerie item and now that Internet is so popular and you can purchase almost anything online, needless to say that lingerie is not the exception to the rule. There are many reasons why you may opt for buying lingerie online: you value your privacy and feel uncomfortable when choosing certain sexier underwear in physical shops, your favorite lingerie brand has no local stores so either you travel abroad or purchase their underwear through the Internet, you can shop whenever you want and from wherever you are. Buying lingerie online can be fun![/caption] However, there are still many people who are quite lost when facing the challenge of buying lingerie online. In this article we'll discuss the basics of online lingerie shopping: where to find it and how to purchase it.
Buying Lingerie Online: Do You Know Where To Start?
Most lingerie brands or the most renowned lingerie stores have their online counterpart and this is definitely a good point to start buying lingerie online as they are trusted companies, with a good reputation, a remarkable customer service and (last but not least) you are probably already familiar with their lingerie sizes _ which saves you the trouble of having to know what size of their lingerie fits you best. If you are familiar with a lingerie store or brand but you have never tried one of their underwear items before, you can still purchase lingerie online from them: look for their sizing charts in the website and you'll be able to decide whether you need a C cup bra or a D.
Buying Lingerie Online: Ask Around!
Don't think you are the only one that is doubtful when buying lingerie online; it's all right to ask as many questions as you need regarding the lingerie items you are interested in, the paymeant methods accepted, the refund policy, shipping conditions or product availability . Most online lingerie stores and brands have online customer service agents that are highly responsive to their customers' inquiries. Remember that they want to keep you as a customer and to be your lingerie brand of choice whenever you purchase such items over the Internet and, therefore, they'll do their best to answer to your questions and clarify your doubts. It is also a good idea to look for online reviews and commeants from people who have already purchased the lingerie item you are interested in or anything from the company you are interested in. Pay attention to what they have to say about regarding these crucial aspects that can make your online lingerie purchase a success or a failure:
Their satisfaction with the product
Their satisfaction with the purchase experience
The way in which the company dealt and solved any issue they had either with the product, the shipping process or the paymeant.
Buying Lingerie Online: Know What You Are Buying
Since buying lingerie online is a strictly look-don't touch place, it is important that you do your research and know exactly what you are going to buy: is the garmeant washable? What colors are available? Where was it manufactured? What fabric is the garmeant made of? Is it available on your size? Finding the answers to these questions will confirm to you that the lingerie item you'll receive is exactly the one you have always dreamt to wear.