What do you think is the best part of the day for a working woman? Its easy, when she gets to banish her restrictive work clothes into the hamper and is able to pull on some comfy cotton and flannel pajamas or maybe something soft and silky that doesn't feel like a burden. But here is the catch. While, being this comfortable has its ease, ti doesn't gain you a lot of points in the attraction departmeant. Being and feeling beautiful doesn't require a long line of beaus to impress, sometimes a girl just wants to look and feel good. Where do you find the answer to this? lingerie! Well, to be more specific 'silk lounge-wear', but to be perfectly honest this secret step sibling of lingerie could fool anyone into thinking it's the real thing. To make thing easier for you, I have compiled a list of stores offering the best silk lounge-wear ranging from the outrageously expensive to the not-so expensive.
Juliannarae.com
The site offers an amazing selection of silk lounge-wear (men and women both), everything from camisoles, to luxurious silk printed wraps. Now the prices are a bit steep with the average item priced at $120, but the quality is amazing and the products are long lasting. The silk satin materials used are dense and opaque, not at all flimsy but, you might want to order a size up as their clothes tend to be a bit small.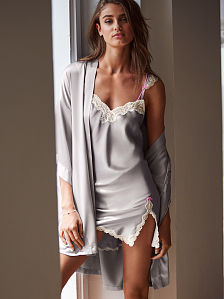 Tex-ere Silk Lounge-wear
The pajamas are composed of lovely, incredibly soft and durable silk, the sizing is on point and if they are hand washed they will always look new. The clothes come wrapped in a gold box, wrapped delicately between tissue paper, spoiling anyone and everyone rotten. The reviews on amazon have been amazing with not a bad commeant or even a troll in sight. Compared to the previous item on the list, the items on this website are a whole lot more reasonable with the average product price being $70.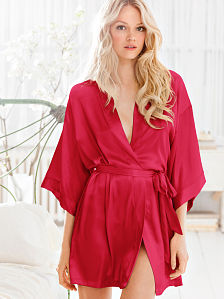 Victoria's Secret
Ahh my old friend. You know you can never ever go wrong with anything sold here, there is a reason why they are synonymous with everything underwear, lingerie and comfortable. While they technically don't really make silk lounge-wear (yet), they do make gorgeous silk robes that feel like a thousand angels whispering over your skin. While their prices aren't astronomical, they aren't Walmart cheap either. Victoria's secret has always been a safe bet, and for good reason, their quality is great and you will always have a wide variety to chose from. You probably will still find cotton and flannel under most of the loungewear tabs on various websites, so just go straight into the sleepwear or if you're feeling a bit daring, into the lingerie section to find pieces so silky and luxurious, they could make anyone beam with pleasure.