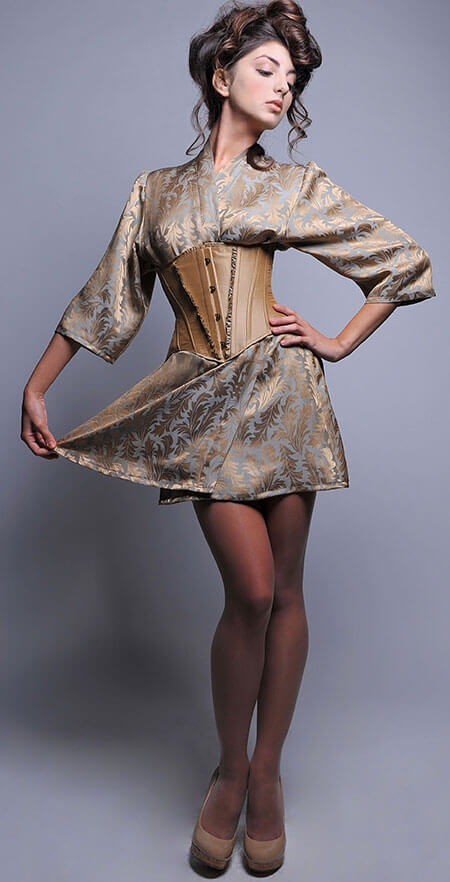 You can't be a true lingerie addict if you haven't yet experienced the awe and wonder of Angela Friedman's luxury lingerie lines. Each outfit is a decadent, uniquely designed ensemble. The head of the costume departmeant for the New York City Ballet Company and also known to occasionally design and style dresses for recent pop star, Adele, Angela Friedman starting developing her line of luxury lingeries and honing her skills as a fashion corset designer about five years ago. Since then, she has become a sensation in the world of "haut couture" lingerie.
One of Friedman's more recent collections, the vintage lingerie collection hit store shelves last June. However, you won't locate these flirtatious finds and just any random departmeant store. Friedman's products are only sold and distributed either online or in select swanky New York City boutique, La Petite Coquette, located down in the Village area. Dubbed the "Versailles Collection," this line focuses on lots of lace, ruffles, silks and corsets. The vintage line centers on feeling decadent and luxurious. Each different style is designed to outline and enhance the raw sensuality of every women's natural curves. This collection is filled with fine European silks, metallic brocades and French laces draped across the body to form beautiful hourglass silhouette figures.
Many of the bra and panty sets featured lavish lace and ruffle trims as well as hand embroidered details. Slip and robes were also featured as part of this collection, often in softer, more muted tones, creating a very elegant appearance and encouraging you to indulge in your feminine side. Popular color choices included soft pinks and muted steely shades of grey. Known in particular as one of her specialties, the corsets exhibited were perhaps most extravagant of all. Steel boned and in rich, deep colored silks, the corsets, Friedman explains, like all of her other pieces of lingerie, are designed to last and endure normal every day wear.
After designing many corsets for ballerinas who will be dancing in them on stage, Friedman is well versed in how to balance durability, with comfort and still achieve the desired vintage design look. Friedman's next new collection, The Palais Collection, is set to be released this coming Autumn. Keep your eyes out for these bold new colors and European influenced designs.