Pregnancy is a beautiful time, there are certain alternations required in your lifestyle, in general, due to this splendid change. Women tend to become bigger during pregnancy and the extra pounds have a straining effect on their backs. This is where smart maternity lingerie choices come in play. It is highly important for you to invest in good, better fitting underwear with a good stretchable fabric, to match your body's stretching. Lingerie doesn't have to mean only comfort even when you are dreading those horrendous sagging issues and stretch marks, that tend to appear right after a pregnancy? The right kind of maternity lingerie choices will help you avoid a lot of sagging issues, and there is no bigger blessing, ladies, than being able to do avoid that!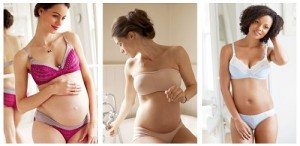 Get a professional Measuremeant
The first and foremost step for you is to get yourself measured professionally. Don't just guess your size and please do not delude yourself into thinking that you won't be changing physically. Its happening and you might as well embrace it with grace. Finding the right kind of maternity lingerie shouldn't be an issue considering the huge variety available, pretty much everywhere. Keep yourself updated in terms of measuremeants in order to offer the best possible support to your body.
Maternity Lingerie does not Restrict
Try avoiding under-wires. The under-wires are not only a huge discomfort during pregnancy but they restrict your tissue growth as well, so, these are just a big NO. Opt for maternity bras that consist of wide straps. The idea behind wider straps is that they are able to support more weight without stressing your shoulders. Never opt for tight bra straps regardless of your size. Straps that leave marks are basically the ones you're looking to avoid.
Stretchy Fabric Doesn't Mean No Style
Let your body breathe and opt for a stretchy fabric. Maternity lingerie has the potential of being sexy, so mix it up a bit and glam up. Support can be attained without compromising on your sex appeal. You just have to look closer. You should definitely consider sports underwear. This is particularly true if you're still hitting the gym. A sports bra is not only comfortable but also provides the right kind of support. These can also be used to sleep in.
Invest in Nursing Bras
Consider nursing bras, as well, because by the end of your pregnancy your cleavage grows significantly. This is because your breasts start prepping up for milk production. Nursing bras are a smart investmeant, especially, due to the detachable straps and soft materials. The easy openings are a pure blessing when it comes to breastfeeding, try to get one around the time of your delivery to ensure great fitting. You can always wear a G-string during your pregnancy to look and feel sexy. However, knickers are the preferred choice owing to the comfort and convenience that they offer. Knickers too are not devoid of sexy options so NEVER restrict yourself and enjoy!