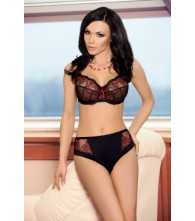 For many women buying a bra is like a nightmare. First the idea of hopping from one lingerie store to another seems like an exciting journey, but quickly turns into a hike up the long hill. Why we love having what we hate buying? Simply, we still believe that we will find a bra that truly meets our expectations. For most women the most important criteria when purchasing a bra is comfortable fit and right sizing. Wrong fit is the main issue why we dislike shopping for bras, but not many of us know, that wrong sizing is what causes most fitting issues (read "My guide to a perfect bra size").
Researches show that even 68 percent of bras recommended by fit assistants in the store can exhibit poor fit ( such research was made by "Choice" – the Australian magazine). The most common problem is cup size, women tend to get bras with cups too small, its underwires digging into breast tissue. Lately I visited Victoria's Secret in Queens Mall, New York. The assistant advised me to pick a bra sized 36D. She was very persuasive and left no room for doubt. Indeed, she didn't like my idea of trying different size even after I cleared that 36 is way too loose. I followed my instinct and finally was able to get 34DD. Boom. That was my size. I feel so lucky. Don't be afraid to keep trying and play with sizes, unless you plan to be another unhappy customer.
Other research (North American Spine Society, 2006) shows that comfort is the most important criteria when buying bras. It is generally more important than support the bra gives and its appearance.
A woman can get really frustrated when she realizes how hard it is to find an attractive large-sized bra. A bra, that will shape their body into a desirable silhouette and won't look poor and miserable on you. All of us are worth elegant and classy lingerie. Make yourself look like a million dollar chick! Check "Emmanuelle" or "Ines" bras. We feel very disappointed with bras made of poor quality. Why even buy them?
Once you buy a cheap bra of questionable quality, you will soon find out how easily they wear out, the lining gets crumpled, the bras get wrinkled, wires pop out of material, the hooks break, straps twist after washing. About 80 percent of women feel pain or discomfort after 8 hours of wearing their bra. The irritated areas are located mainly close to underwires, bands, shoulders and where cups connect. Don't be one of them.
Be happy with your bra choice.
First think carefully what you need a bra for, what you are going to wear it with. Take your time and play with sizes. Jump or bend down to see if you don't pop out on any side. If the straps are about to fall down, don't buy as the elastic they are made of tend to stretch out after a while. Seek for bras with adjustable straps. Buy great quality bras that will last you long as brand new looking ones. Pick bras made of soft, breathable fabric as they are considered the most comfortable bras. Either you are at work, go out or run errands, the bra has to feel in sync with you. Decide if you like nipples showing through the bra fabric. Some women love soft bras that are light-weighted and made of high quality, extraordinary lace pattern, some prefer to hide them.
If your closet is stuck with tops that have deep cleavage don't buy bras with full coverage! Bras are not meant to stick out over a shirt. Best option will be a push-up bra or my favorite bra – balconette. Check "Isabelle", or "Roxana" bras at this site. Push-up bras are best for women who appreciate a cleavage the push-up bra creates and the enhanced breast size. Some of us give best notes to smooth bras without visible patterns. In my opinion satin bras present the best options. Check "Christelle" satin strapless bra at Lacy Hint with your nearest search! No matter what bra you decide to buy, be assertive and know the most details your are looking for. Good luck ladies!