I don't find myself to be the type of girl that would buy herself the most luxurious lace lingerie out there, but when I have a man who is offering to buy me expensive undergarments, I am going to take them. My summer fling last year was a young stock trader who made a very decent living. He had money to throw around, let's just say that. He was buying me expensive clothes left and right. When he said that he was going to buy me a 100 dollar bra, I was a little skeptical.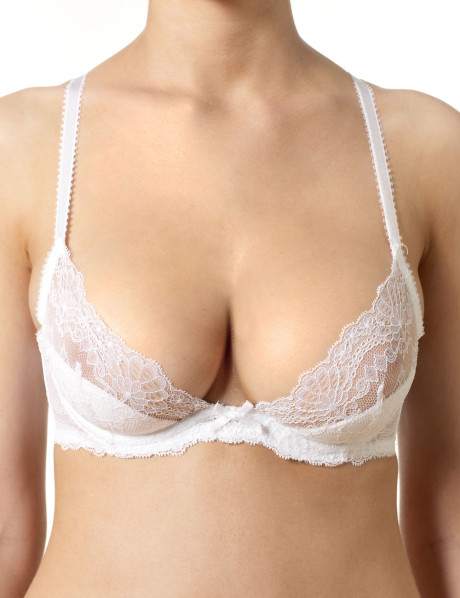 He is quite the fashionista himself, and he told me that Myla bra was the best of bras out there. I was ready to see if Myla bra was all it was cracked up to be. The first thing I thought when I finally got my Myla half padded lace bra is that my lover obviously didn't know what being a girl was like. While my new lingerie made me look and feel sexy, this was just not something that I wanted to wear everyday. It was nice to be able to wear it in the bedroom, but it was just too lacy to be comfortable. This white lacy padded Myla bra did however make my chest look amazing. With being a 32B, I am sometimes self conscious about my size, and this Nicole plunge bra with the padded cups really helped me feel perkier and bigger. This is great in the bedroom for confidence.
Summary of my Myla Bra
Overall, I think that spending almost $140 on a lacy push up bra is just ludicrous, unless you have a rich stock trader boy toy who is buying it for you. For everyday use, Myla bra is not the best option, especially for the price, but for use in the bedroom during anniversaries or other fun times, this can be a very fun bra to have in your collection if you are willing to spend the money.