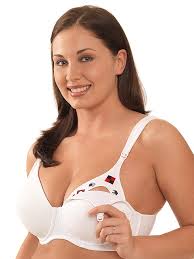 Babies come with a bundle of joy, sleepless nights, diapers, pacifiers, baby toys and nursing bras. If you are new to motherhood and believed that you could succeed in breastfeeding wearing your regular bras, I'm afraid I have bad news for you: having some nursing bras at hand will make breast feeding more easier, more comfortable and much more convenient.
What Are Nursing Bras?
Nursing bras will be your best friends while breast feeding. They are a special bra designed for mothers that make breastfeeding significantly easier and comfortable while contributing to making the process as discreet as possible. Nursing bras provide more support than regular bras as breasts as usually heavier during lactation and they have removable or movable cups so that mums can begin breastfeeding quickly and without much fuss without having to remove the bra.
What Should You Look For In Nursing Bras?
As you shop around for nursing bras you'll soon notice that there is a wide variety of nursing bras available in the market. Nursing bras come in different styles and fabrics. Staff in lingerie and maternity stores can provide you with professional advice regarding them so that you can make an informed purchase decision. When evaluating nursing bras, make sure they are comfortable and that they provide the support you request. They should make breastfeeding comfortable for you and your baby. It is important that you ask a professional to measure again your band size as your rib cage also expands during lactation. This will allow you to find nursing bras that fit under your breasts correctly without feeling any pain. Again, have your cup size properly measured. It is important that the cup of the nursing bras snugly fit your breasts. The correct size of your nursing bras is important because the band, cups and straps of your nursing bras combined will provide you with the support you require.
What Types of Nursing Bras Are Available In The Market?
There's a wide variety of nursing bras available in the market and almost all of them come with interesting features. The ones you'll find more attractive will depend mostly on your personal preference and the size of your breasts. Let's discuss some of the most popular types of nursing bras you can find: Nursing bras with underwire will offer you the best support and it's especially recommended for women with larger breasts. Seamless nursing bras without flaps are the most comfortable but they don't provide so much support. Thus, they are best for women with smaller breasts. Now, let's talk about some of the features you can find in nursing bras: Nursing bras with flaps allow a mother to swing aside the cup with one hand while holding the baby at the same time. Many mothers find it convenient because they don't have to remove the entire bra in order to feed their babies not to meantion that most moms prefer these nursing bras because they allow the whole process to be really discreet. Nursing bras without flaps are seamless and are made with light material. Breastfeeding mothers can pull the cup area down in order to feed their baby. They are ultra comfortable but since they can't support a lot of weight they are not the best option for large-breasted women. If you're used to bras with underwire, nursing bras with underwire can work for you. Some breastfeeding mothers don't like them because they are a bit uncomfortable but they work fine for women with larger cup sizes.
Choosing Your Nursing Bras
Now that you know the most relevant features of nursing bras it's time to decide which ones you prefer: the final decision will depend on the amount of support you need and whether you want flaps or not. If nursing bras with flaps seem the best option for you, you now need to decide on the type of flaps you like. The two different types of flaps open and close in different directions, whichever you choose make sure that the flap opens wide enough to expose the whole breast to your baby. Nursing bras will be part of your daily underwear items for quite a long time. Therefore, finding ones that help you during the breastfeeding period in a comfortable and convenient way is essential.