We now how important it is to feel comfortable while you are working out, here are our sports bra top picks. If you've ever gone for a run or powered through a boot camp class, you know finding the right sports bra for your body is more or less crucial. A bra that does not support you propertly can have cause you serious pain, not to mention have you bouncing all over the place. Amy Sanchez a senior research associate in bio mechanics at the University of Portsmouth in England states "The breast contains no muscle or bone, and its only natural support are the Coopers ligaments — fine ligaments inside the breast — and the skin. Both of these structures can be easily stretched when we move, which may cause discomfort and damage to the breast structure." Amy suggest to follow these five tips when looking for the best sports bra for your needs: An under band that fits securely (it anchors the bra to your torso) Straps that feel secure but don't dig into your shoulders Fabric in front that lies flat against your torso Cups that fully encase your breasts with no bulging or gaping For underwire styles: underwire that follows the natural base of your breasts and doesn't lie on the breast tissue
Top Three Sports Bras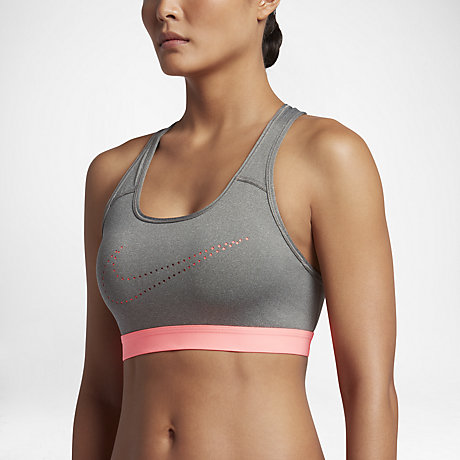 Nike Pro Classic Cooling - provides medium support with mesh and a keyhole back to provide ventilation. Plus it come in a variety of colors.
Under Armour- Armour Mid – Self Binding - Ultra tight fit that can feel just like a second skin. It is lightweight with the Under Armour Signataure Moisture Transport System to keep you nice and dry while you are grinding it out at the gym. Aslo available in a variety of prints and cool colors.
Champion Spot Comfort® Full-Support Sports Bra - Has adjustable straps, made of super soft fabric that will wick away moisture for a cooler fit.
Imagine having a sports bra that did what it was supposed to do. Hold you in place while you go for your morning run. Prevent a wardrobe malfunction during your hot yoga class. Keep the girls in place while you are struggling through your 3rd set of 30 burpees. All of these options are available in a wide range of sizes to accommodate any size chest so strap in and get your fitness on!