Spring is on its way and with some truly fun, sexy and elegant trends for you! The trend of this upcoming spring ranges anywhere from monochrome to stripes. Neutral colors are prevalent or for a more dramatic flair do not hesitate to wear a pastel or a fluorescent color such as calm green and neon orange.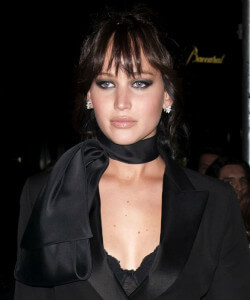 For a smashing entry, the tuxedo look is an absolutely trendy style! A great alternative to the evening gown look, the tailored black tuxedo look is both sleek and stylish. You can wear It in a classic way or as a dress, a skirt, shorts, with a bow tie or even a narrow tie. It will add to your already distinguished look! Are you ready to experimeant? A fun and comfortable style are garmeants with stripes. Stripes are a throwback to the sixties and can be worn in black and white, or in many vibrant colors. Stripes can be paired with leggings, jeans or a short frock. A new sexy trend for this spring is the M-split, often worn as a dress. This sexy style is a double slit in the shape of an M and is popping up on the runway. It creates a peek-a-boo effect that is both elegant and springy. Other spring skirts styles include pencil, peplum, and A-line, all in fresh pinks, beige and yellows. A bubbled one looks great when paired with a fitted blouse. Or, if you are daring, go with a print and pair it with a tailored shirt, or a sweater.
If you favor pants, why not try something new with a high wasted short, which can be sleek, elegant or funky. Tuxedo pants are great and can be worn both daytime or at night for a more fancy look. For those looking to channel the disco days, one-piece outfits are very stylish. Skinny leg white jeans will surely make a statemeant when paired with a white blouse, or a contrasting black top. Hats are always a great fashion accessory, or better yet, a great way to hide bad hair days. You ca pair them with boots or flats, depending on your mood. If you are more into a sport look, why not try a sporty cap which can be worn sideways, forward, or backward, popularized by pop sensation, Rihanna. Spring styles are not just about being trendy outside.
At home, especially in the bedroom, look for new lingerie sets, such as brown lingerie sets, pink lingerie sets, or black and red lingerie sets. For a transcendent look, pair you mind blowing white lingerie with dramatic make up and glossy high heels in metallic colors.