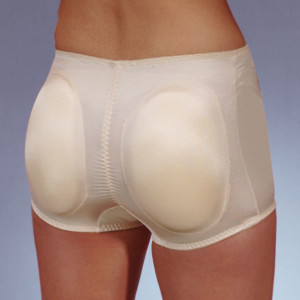 Padded panties have come to the rescue of a large amount of women. Let's admit it: having a round, sexy and average size butt is amongst the most attractive physical asset in a woman. In fact, many clothes, from trousers to skirts and even dresses (not to meantion swimsuits) don't look attractive on women with flaccid, small or flat butts. However, there are not many women with round, sexy butts. If you have always felt insecure about your butt size or inferior because your tight jeans look loose in the back area or because your rounded butt is in desperate need of a lift, then buying padded panties can be the key to solve your behind issues. Even though you can always undergo an aesthetic butt surgery to lift your butt and give it a more rounded and sexy shape, these panties make it easier for you to achieve the same results without undergoing such a painful and intrusive procedure. Padded panties are really effective and can fool anyone who doesn't know about your butt issues. They look like panty girdles with pads made of silicone or foam that are sewn or inserted at the buttock area. Wear these panties under tight-fitting skirts, dresses or jeans and discover surprisingly that you have a round and sexy behind.
What Can Padded Panties Do For You?
Lingerie stores offer different kinds of padded panties. Needless to say, they give a beautiful change to your silhouette. They target your butt and give the illusion of an immediate lift. They add shape to your behind and a natural round contour. Some padded panties have silicone or foam pads on the butt and the hip area, thus changing your silhouette dramatically and enhancing not only your behind but your sides as well: in other words, these padded panties give you the so much sought-after hourglass figure in just seconds! What's more (and perhaps more important), padded panties boost your self esteem almost immediately!!
Foam Padded Panties or Silicone Padded Panties?
Although choosing type of padded panties over the other is mostly a question of personal preferences, it is true that foam padded panties are lighter and usually more comfortable to wear and give a more defined lift. On the other hand, silicone padded panties will give you a more natural-looking curvy butt. While padded panties sit on your waistline like any other panties you may have, there are also rise padded panties that you can wear with low rider jeans. Don't think it twice and buy padded panties for a lifted but and a more cheerful self-esteem!