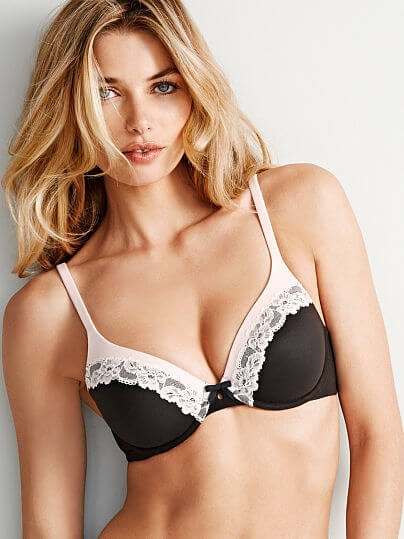 This bra that was just received as a birthday gift from Victoria's Secret. Perfect Coverage Bra was chosen in the size of 40D and the color chosen was the black and ballet pink embellished lace trim. I prefer full coverage bras so that I don't have any issues of "falling out." The fabric is soft and does provide some extra support to the front side of the full coverage. The fabric feels great and smooth and I didn't have any problems with wearing this product. There is under wire on this type of bra and the under wire is not comfortable.
The under wire does rub on the skin at the bottom of the chest and then becomes very uncomfortable. It would be best if there was no under wire added. Even though there is under wire, the bra still fits to my body shape with comfort outside of the under wire. The straps can be adjusted and that works perfectly so that the straps fit just perfect and not too high or low making it fit the chest in the correct way.
The back is very comfortable and does not bother the back even with the hooks. Being the size of 40D there are four types of hook settings. This provides more comfort and I like having the extra hold in the back to support the hold in the front. In the front of the bra there is a small hole and small bow for design.
I personally do not prefer the hole due to it could stretch or rip, and with the bow even though it is small, I don't like the bow. I received this as a gift and I didn't have a choice of the style, color or the small hole and bow in the front.