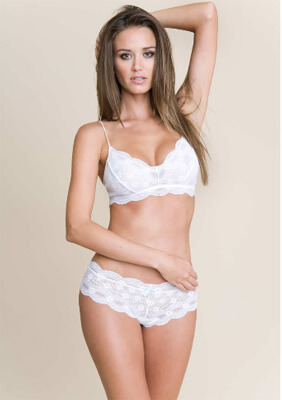 Somehow, there's nothing quite as sensual as having that perfectly fitting, custom tailored lingerie set, that conforms precisely to your individual curves. As fiddling with sizes grows increasingly frustrating to deal with, custom lingerie is becoming a more and more popular choice.
For many women, shelling out a few more bucks is worth it if it means having a truly ideal piece of lingerie. Sometimes it's a wonder if the "standard" bra sizes manufactured really accurately fit any women at all. Breasts are probably the least "one size fits all" part of the body and with an estimated 80-85% of women wearing improperly fitted bras, choosing a custom bra is a great way to finally find a bra that is both comfortable, supportive and can have whatever look and features you desire. Many manufacturers are now adding a "custom design" section to their lines to help solve this issue.
Trying to find where to order that perfect bra? Check out Eve's Apples Lingerie. In addition to an entire section devoted to small breast sizes, when you order from Eve's Apples, you have the option of filling out a "bra fit consultation form," so that your bra size is custom to you. Breasts not quite the same size? No problem! Wide set, narrow set? Piece of cake. No more bands that ride up, or things that pinch in weird places. Imagine that! Interested in keeping eco-friendly and going green? Take a look at Brook There, where you can custom pick all organic panties and bras (as well as other clothing items). From simple silk designs to pretty little bows and lace, Brook There has all kinds of cute and simple, matching bra/pantie sets. Added bonus, these products are all made from the most unbelievably, silky soft fabric. Want a little more flash and bling? No worries, take a browse on Blondies Custom Couture to customize your own bra with sparkling straps and bedazzled jeweled undies.
As we all know, finding the right lingerie can be serious business. Going to be in the Chicago area? Schedule a personal consultation with Norma Loehr, Orange Lingerie manufacturer, and be professionally fitted before working with the expert to design your perfect ensemble. Whether you are simply a harder to find size or just can't quite find what you are looking for, there are all kinds of solutions out there for you.