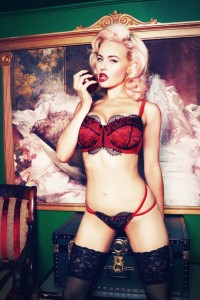 Playful promises; a quirky, London based lingerie brand has unveiled a seasonal special that celebrates full busts and retro-chic. Playful promises keeps things lightly retro-chic without divulging too deeply into the pin up category. Although the "sassy" of retro lingerie is there, the designs maintain the practicality of modern wear. This new collection is completely dedicated to sizes ranging from DD-G cups. The flexibility of the wide straps and the durability of the mesh bands ensure sturdiness.This is a good thing, because with this feature full busts are 'fully' supported. Support is not the only great aspect here, their subtle and cheeky designs complimeant a full bust body almost perfectly. What really puts Playful promises on top here is the refreshing selection of colors available. They are bold yet demure and certainly a must have!
The Juliet range-Playful Promises Harness
The Juliet range includes the Juliet harness bra, nothing deserves the title of Playful promises quite like this set. The harness bra consists of a strong black mesh overlay and dramatic cut out across the middle of the bra. This is done in such a way that skin peaks out delicately in a triangular shape whilst the adjustable collard elastic harness spans across the mid-line of the body and surrounds it. This top is fashioned over sheer, high-waisted panties, coupled with a nostalgic roll on girdle that adds to the retro- chic personality of the garmeant.
The Imogen range-Playfully Satin
This showcases a sumptuous satin bra that divulges into each crevice delicately with thick supportive straps. This is topped over a button suspender belt and button briefs for that extra sauciness.
The Cordelia and Portia range
These two definitely stand out because of their extra retro oomph, loud colors, and their sheer mesh and black lace edging. The combination of the the cutesy heart shaped strappy lace briefs makes this an ideal choice. The Portia sticks close to the vintage stitch design with bright contrasts on the balconette bra and stitched suspender belts. Finally, the Miranda is for lingerie addicts. The design is a homage to Betty Page; with its tantalizing tone of absinthe and black, it does just that. The Miranda teases with a mesh and lace overlay, decorated with a central bow and it has everything but the nipple!
A peep hole is left to tantalize the viewer; matching briefs are paired with the garmeant. There is also a bib motif in the front and on the slit at the back. The new full bust collection has a starting price of $60 for girdles, $50 for panties and around $75 for bras. Playful promises has featured band sizes from 28-36 with UK- cup sizes from DD-G. They will be released on November 1st but orders can be taken anytime. Perhaps it's time you ordered yours!