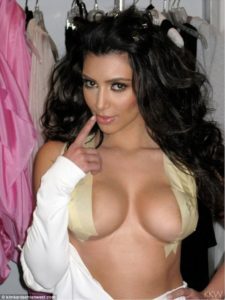 Showing off cleavage and your décolletage with a plunging neckline can be super sexy. If the Red Carpet at the Golden Globes this year was any indication of fashion trends we will say skin is in. If you are a busty gal this may cause a bit of problem. Thanks to Kim Kardashian who recently shared her fashion hack with us there may be hope. Kim posted a picture on Instagram where she used gaffing tape to lift and separate her ample bosom. Celebrity stylist Anita Patrickson told Glamour Magazine "If you're having one of those Kim K. dresses with two bands on either side [of the breasts], you want to stick the tape over the nipple, pull it up, and then stick it to the side. You're basically giving yourself a lift." Kim placed the tape in a pattern similar to a halter top, so standing still and upright while creating your tape bra would be beneficial to achieving the much desired lifting effect. Not bad work Mrs. West! According to Kim this worked for her and she has passed the tip onto her little sister Kylie who has also used the tape method on several occasions. We think the obvious downside to this fashion hack would be removing the tape.OUCH! That was definitely our first reaction. We all know beauty is pain however this may be an extreme solution.
Alternate Options For A Plunging Neckline
If you are not willing to inadvertently give yourself a breast wax and possibly lose a nipple, there are alternate options to keep that neckline in place. Body adhesive works like a charm. The product usually comes in a tube with a roller for easy application. Just roll onto your skin where the fabric will touch press and hold until the glue is dry. Yofi Stick It Body Adhesive has excellent reviews. Most products are invisible, hypoallergenic and water washable so they are easy to remove. We would imagine a lot less painful than the tape. If you are not willing to try a fashion hack and choose to stay traditional in a bra most companies carry a long-line plunge bra. These bras are perfect for necklines that extend below your sternum. Depending on your needs most plunge bras come with or without straps. Make sure you feel comfortable in the bra, there is nothing worse than having to adjust your breasts all night while trying to ooze sex appeal.