Pour Moi bras offer a bra called Promise, which is a non-padded bra. It is a chic and stylish bra. It has a sheer panel top half and a textured-striped effect on the lower cup. The straps are not too thin and are adjustable. Plus, the black and gray color of the Promise bra makes it look sleek and sexy instead of soft and romantic. There is a little pink bow embellishmeant that adds a touch of girliness but not too much. The bra still has a sleek attractive appearance. There are so many bras lately with floral patterns and lace but this bra is far from those. This is a great style for people who do not like bras that are too frilly but still want something stylish.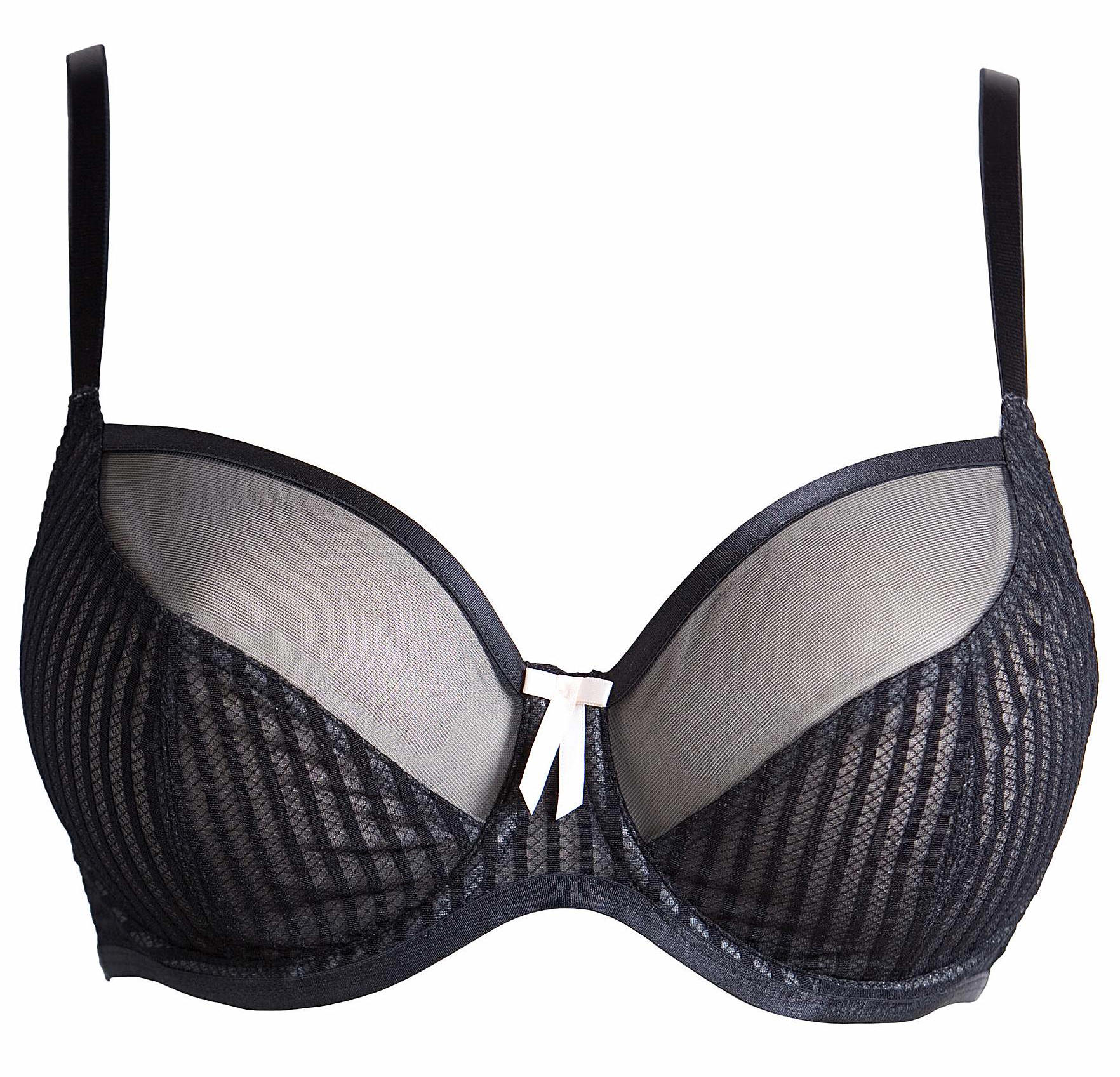 Promise by Pour Moi Bras Review
Pour Moi bras is one of the best inexpensive full coverage lingerie brands but this bra has issues. It is very stylish but the fit and comfort level are not what I expected. The top sheer panel is weak and offers little support. There is an elastic band at the top of the cup to help cling to your chest but it did not make up for the weak support. The cups continually slip and bunch, and require constant adjustmeant. The bottom half of the cup is also uncomfortable. The chest does not settle into the cup as it should and it creates a gap. While wearing the bra you have to constantly adjust your breast back into the cups. This bra may fit a fuller figured woman better, but there is no guarantee. The awkward fit and constant adjustmeants were too annoying to make this bra suitable for daily wear. It is a shame because the Promise bra has such a stylish appearance. The actual shape of the bra was good. It created a round and natural form that was flattering if you can stand the constant adjusting. Normally Pour Moi bras are excellent and inexpensive too but the fit of this bra was not up to the usual quality that I am used to. It is incredibly disappointing to find such a stylish and affordable bra that does not fit. Unfortunately, the stylish look of the bra did not make up for the uncomfortable fit. Pour Moi make many good quality full figured bras but the Promise bra is not one of them.