When one thinks of a 26DD bra size, what visual comes to mind? A busty, young teenager? How about a thirty-something mom with two kids? Or a 65 year old losing to gravity?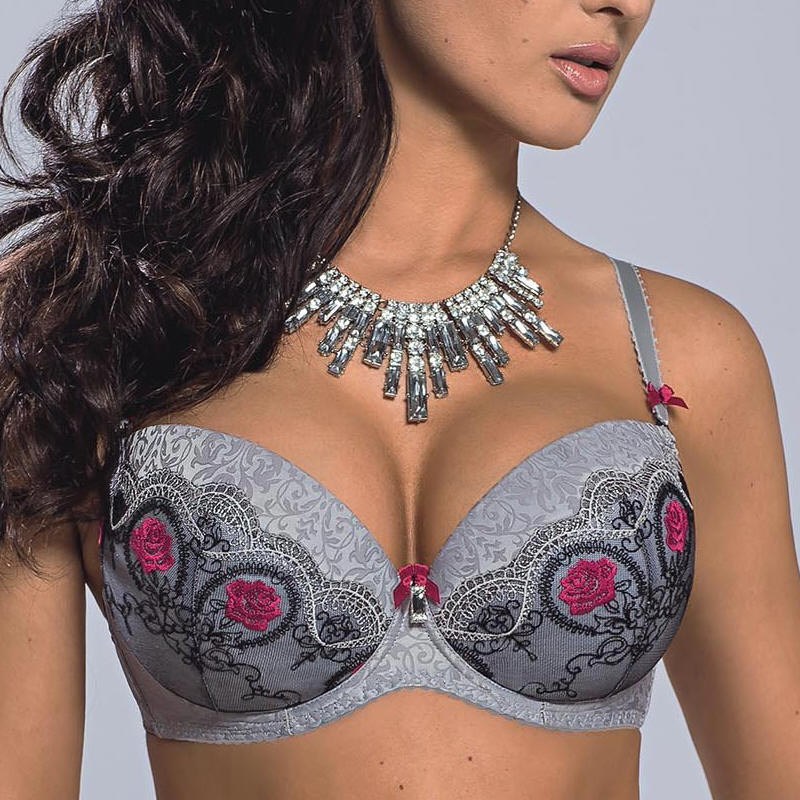 Silver Grey Push up Bra in sizes 30D, 30DD and 30DDD
At recent Curve Expos in New York and Las Vegas, the brands that serve large-busted women suggested that 30 band size and under were for junior or petite sizes and suggested there is no market for the smaller band size. This is definitely not factual. Believe it or not, there are many women of all shapes, sizes, and age who have a smaller band size. Yes, some even wear a 26DD bra size! Every woman, no matter her size, should own a bra that fits to a tee. Imagine, having a band moving around under your arms and around your rib cage rubbing the skin raw! Also, not having the support that is required of the bust can lead to back pain and droopy breasts. All of this is uncomfortable to say the least.
The fashion, and specifically, the bra industry must come to the realization that there are women who exist outside of their "model" sizes. So far, only custom bra makers seem to be aware of this need. Be sure to go to a specialist to get sized if you feel you don't need actually a 34DD, but maybe a 30G bra. Some women aren't aware that bra band sizes exist below 32! If the reader asks someone in their local departmeant store for a 26DD bra, they would probably receive looks of confusion and be shown to the first-time bra section.
One Way To Trigger 26DD Bra Production
If all women who wear 30 band size and under were to contact favorite bra brands and tell them they do exist and that there is a need, then we would see many more options in the marketplace. Wearers of 30 and under are responsible for creating this awareness for their comfort and for others in the same situation. You can support Bra Band Project by submitting your photo and the band size you need, and then maybe... in the future bra brands will start consider the demand more seriously.