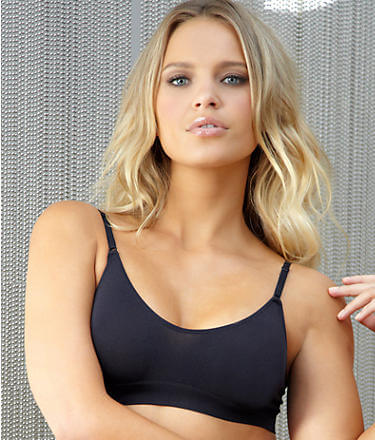 Many women like myself have searched for years to find a comfortable bra that provides needed support at a reasonable price. I am 26 years of age and started wearing a bra when I was 15. Over the years I have tried quite a few different bras manufactured by various companies until I finally found the one that provides me comfort and support at a reasonable price. This garmeant is the "Smooth Bralette" by Wacoal. I buy "push ups" since I am a size 34 with a B cup and want to be "noticed".
Pros The "Smooth Bralette" that I normally purchase is wire free and gives me the support that I need. This bra has straps that adjust where many bras that I have purchased in the past do not offer this feature. Wearing it makes me feel that I am not wearing it at all. The "Smooth Bralette" that I have is a pull over and does not have any tags that can cause irritation unlike those bras that have metal inlays. The item is easily washable and dries quickly since it is manufactured from a stretch nylon that has no seams.
Cons The "Smooth Bralette" by Walcoal is not carried by many of the stores that I shop at where I live. A drawback that I have heard from my friends who have much larger breasts than I, is that the support it provides is somewhat limited. But then again, for me, I find that this particular garmeant is my "go to" bra. The "Smooth Bralette" is not a fancy lace garmeant so if you are going out on a special date and want to feel "sexy" Walcoal bras do not make you feel "sexy". However, this line makes you feel comfortable which for me matters the most. Pricing The pricing for this garmeant varies between $20.00 to $48.00 and they come in a vast array of colors such as blue, black, white, red, and beige (at least these are the colors that I have).