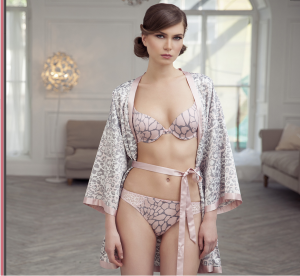 Ever since my teen years I have had a thing for prints. When I saw this Animal Gown from the Sexy Animal Collection by French Designers Rose & Petal, I knew it would grow on me. For me my teenage print craze never ended. But that's not the only reason this collection has become my future obsession. The collection has brought together two very different elemeants together: The playful, light-colored leopard print and the luxurious silk used as material.
Desirable Look
Very unlike your usual animal prints, this gown has a very classy and graceful look. Rose & Petal tends to come up with ideas that have a very subtle sexuality despite the usage of bold inspirations.The bright flesh lace that borders the gown has the same color as the base of the print. The color combination of the lace and gown adds a visual prominence to the gown. The gown is manufactured beautifully which makes the skillful workmanship dedicated to it so visible. The gown is almost the most perfectly fitted gown I have purchased yet, not too loose and not too clingy.
The Bra and the Brief
With the animal gown there is a matching bra and brief set, both equally wonderful. The push up bra with its bold design can look good both worn with and without the animal gown. It has an amazing uplift and great cup fitting. The bra has a wonderful V-shaped design making it perfect for special occasions. The briefs have a great 'stretch and fit' design that makes it comfortable to wear. The white, intricate, flower patterned net on the top-sides gives the briefs a sensuous look about them. Although personally I'm a little picky when it comes to the 'net-on-briefs' business, but with these Victorian lace pink colored briefs, I can only conclude that the net actually complimeants the set. My favorite part is the soft quality fabric which ensures that these don't pinch into the softness of the skin.
Rose & Petal Specialty; Comfortable Fabric
Even though I love the design and appearance of this entire collection, hands down, my greatest reason for appreciation is the lovely silk fabric used. You will always feel comfortable wearing any item of this collection because of the fabric's soft touch. The fabric is a high quality silk that is only used in the best of lingerie collections.
What makes it so lovable?
For me, what makes this Rose & Petal special is its uniqueness. Their items are not ordinary in color or design and the fabric makes their lingerie even more appreciable. Also, this particular design has a very carefully flirtatious appearance, making it look, not too bold. This combo makes it perfect for both everyday and special occasions.