What is your favorite lingerie for small breasts? Share a commeant! Learning to cherish small breasts can be a difficult quest, especially when it feels like the lingerie world only celebrates the fuller sized bosoms. In fact, there is much to envy when it comes to having a smaller chest, including a wide array of sexy lingerie. The majority of women walk around wearing the wrong bra size, and small bosomed women are no exception. Although you may think that your size is simply the smallest available, it is well worth your while to take the time and get properly fitted. The first step to finding the right bras and lingerie styles to show off your figure is selecting items in the correct size. Many small chested women think that they have been forever banished to purchasing dinky looking training bras from the girl's section at departmeant stores. Of course, no one wants to head for a hot date wearing a preteen training bra. Over the past several years, lingerie designers have finally started to hear and respond to the complaints of the small chested. A handful of lingerie manufacturers now cater solely to the small breasted, offering various sexy small size bras designed entirely for the A cup and flatter crowd. These include push up and padded bras, as well non padded varieties for those who are proud and confident with their small size.
SILANA push up bra available in A cups and small bands.
Lingerie pieces that feature an empire style are ideal for the small busted woman. This style of top emphasizes and enhances the chest area while naturally highlighting whatever curves you've got. Even if you lust after big, full bosoms, avoid trying to fill yourself out with excessive padding, especially if you have a smaller frame overall. Stick to a lightly padded bra which can gently enhance what you've already got. Remember, the goal is to softly embellish your breasts while keeping a natural appearance.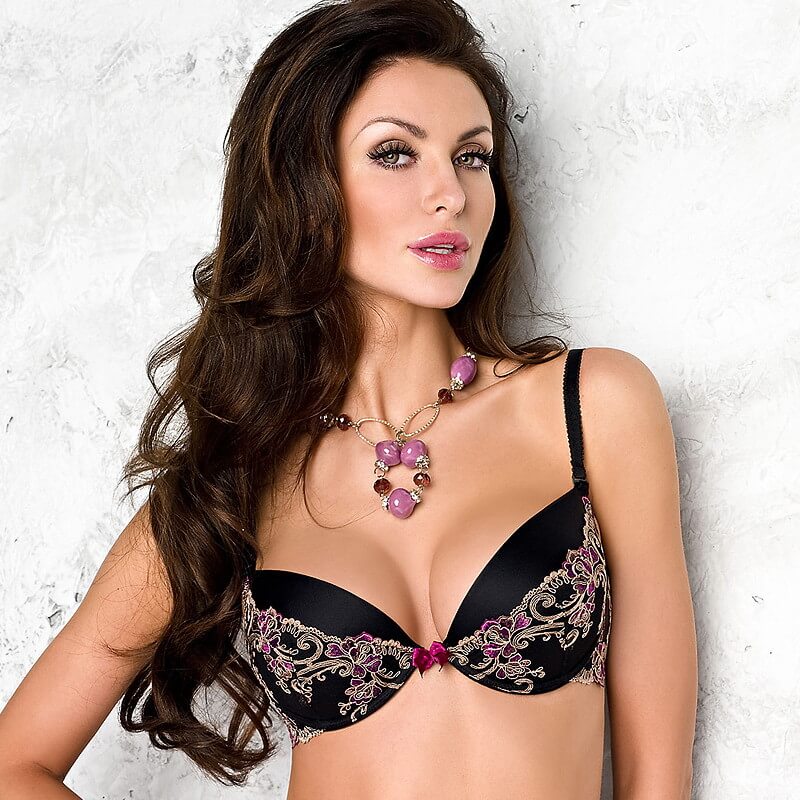 FRIDA push up bra available in 32A, 32B, 34A, 34B and other. Match with beautiful lace garter belt and panties.
Consider looking into the demi cup bra style; this lower cut bra type is perfect for flattering flatter chests. If you're on the daring side and are looking for some especially raunchy and sexy lingerie, check out the quarter cup bra style. Thanks to the small breast you have the luxury of choosing a bra with feminine frill and ruffle inserts and unusual patterns, which add to the optical volume of your bust and can be too overwhelming for women with large size breasts. Play and experimeant with exotic styles! As you head out on your next lingerie shopping excursion, experimeant with some different cuts and styles. Look for a style that brings out your natural womanly confidence and lets your inner beauty shine.