There's a little something extra to love when it comes to sexy plus size bras. Anyone who loves collecting beautiful, high-quality lingerie pieces knows that there's nothing quite as exciting as finding extra large bras that are draping in lace, jewels and sensual touches. We say that it's time to celebrate big bras in a big way. Here's a look at the top five things to love about sexy plus size bras.
They Are Unique
Don't you just feel sorry for all the women out there who are stuck wearing the same bras as everyone else? Many women simply rely on major labels to provide them with a handful of bra styles every season. That means that there are many women out there all walking around in the same exact bras. Discovering sexy plus size lingerie in unique styles that have been crafted using special European methods is a very exhilarating thing. You should definitely celebrate the fun of owning a bra that is unique and special. There's no way you're going to bump into another woman in the locker room at your gym wearing something as unique as the Pacific Opal unlined 44G bra.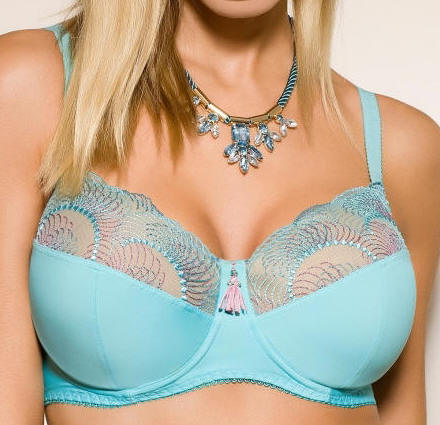 Sexy Plus Size Bras Are Now Comfortable
Finding your dream bra means finding a bra that feels as good as it looks. One of the big victories that goes along with finding high-quality and sexy plus size lingerie is being able to feel comfortable in your own skin. High-quality, artfully crafted larger bras are designed in a way that works with your shape instead of causing constricting discomfort. It is as though every inch of fabric is working in cooperation with the bra's cups, clasps and straps to caress your body. This can be a big deal for any woman who has been forced to settle for bras that simply didn't fit properly in the past. So many of us have settled for mainstream bras that simply didn't accommodate our shapes. This often meant letting too-thin straps dig at our shoulders or allowing wires to squeeze us until we were left with bruises. Let's hear it for the comfort that comes with finding high-quality bras for larger cup sizes. There's really no reason to go back to anything else once you've discovered true comfort.
They Make Your Clothing Look Amazing
There is just something about the way clothing pieces fall over extra large bras that have been constructed properly. Even a beautiful design like the Nuts & Caramel full figure mesh bra somehow manages to be even more amazing when it's covered up than it does when you're strutting in front of the mirror. That's saying a lot once you realize how amazing this bra can make your body look when you have nothing else on! All of us have had the unfortunate experience of seeing the way our clothing looks on our bodies when we aren't wearing the right bra. Trying to squeeze into a bra that's too small or playing around with a bra that emphasizes frills over fit can result in lumpy, bumpy and sloppy looks that don't do our figures any favors. Finding a high-quality bra that's just your size means being able to make your favorite outfits look just the way they should.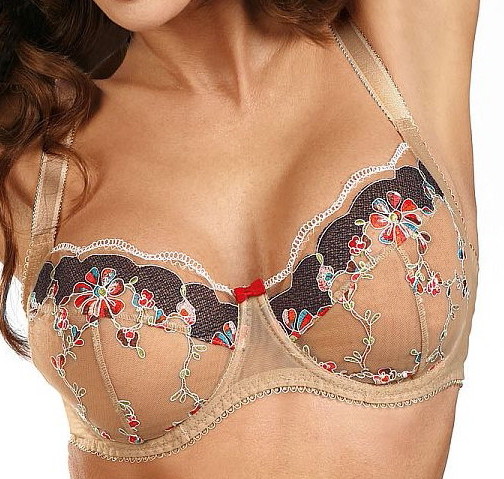 Sexy Plus Size Bras Are Versatile
What's better than a comfortable, beautiful bra that you can wear to the office? Try a comfortable, beautiful bra that doubles as a piece of lingerie. You know that you've found a bra you can really love when you can use it as your lingerie after wearing it all day under your clothes. A gorgeous design like Blue Ink navy blue plus size bra can easily pull double duty as both your everyday bra and your go-to romantic bra.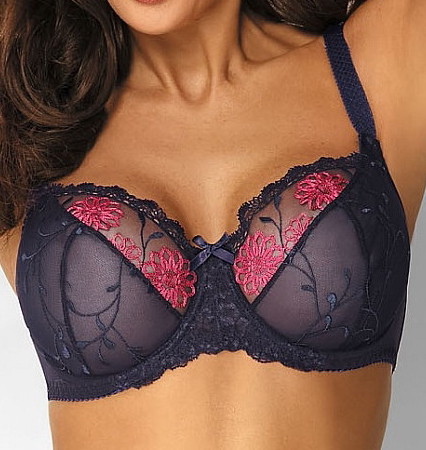 They Make You Feel Beautiful
Most women who need extra large bras have embarked on long journeys to find bras they love. The reality is that most bras for larger busts are dull, drab and anything but sexy. This can make a woman feel left out and forgotten. The good news is that you don't have to wait around for mainstream retailers to get with the program and finally begin offering show-stopping bras that are perfect for larger busts. It's now easy to find European designs that are glowingly beautiful. What's more, these designs offer amazing quality and comfort. That means that you can look radiant without worrying that you're going to feel digging or pinching after a few hours.
Our bodies should be celebrated. Part of that is embracing beautiful bras that allow us to feel comfortable, look beautiful and be confident. The good news is that we don't have to wait for mainstream brands and retailers to finally figure out what women with larger cup sizes want. Sexy plus size bras made using the best that European craftsmanship has to offer make it possible to enjoy all of the frills, jewels and elegant cuts that women with traditional bra sizes have been enjoying all this time.