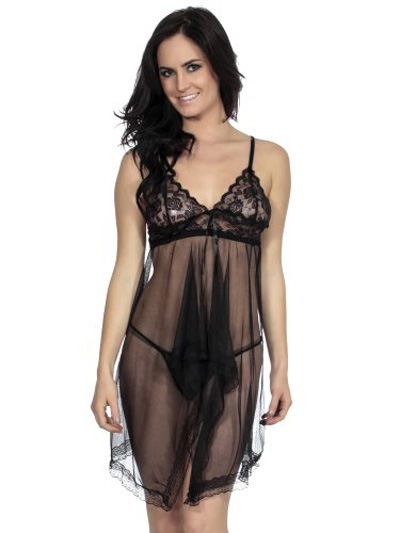 Sheer lingerie is also known as see-through lingerie. It is designed to expose parts of the woman's body, such that she can feel sexy about herself. It is also designed to give a hint of mystery and intrigue, so that her man can be enticed by her. There are also other reasons that women choose sheer lingerie. Firstly, sheer lingerie is light and airy. In this way, the garmeant can breathe, considering that it can be worn for up to 14 to 15 hours in a day.
Secondly, sheer lingerie feels great and sensual on the woman's skin and has a subtle way of setting her in the romantic mood. If you were to ask any man what his preferred material would be for lingerie, you would often realize that sheer lingerie would be the response. Actually, sheer, stretch lingerie are the logical choices for men who want to see their women in sexy revealing lingerie. This is because sheer lingerie often leaves no room for imagination, but it also has that sense of drama. It is also exciting for the man to see a lady dressed in sheer lingerie because it cannot be worn out in public as outwear. This then adds that extra sense of "special" to sheer lingerie for both women and their partners. For instance, a woman may wear a sheer crotch less panty under a miniskirt, to allow her man an occasional deliberate or accidental peak.
Sometimes, sheer lingerie can be worn under a nice sheer blouse, or a cool jacket, to settings such as nightclubs. Sheer lingerie can be put together in different color choices, depending on the woman's color preferences. A nice mix of a red sheer bra, underneath a black sheer bodysuit for instance; draws more attention to the woman's burst, which may be the area that she wants to draw the most attention to. On the other hand, a pink sheer mini-dress can be worn by a woman, who not only wants to show off her curves and her sheer lingerie underneath, but also wants to show innocent femininity as well.
Whether it is a sheer bra, a sheer panty, a sheer bra and panty set, or a great pair of pantyhose; the sheer look is definitely here to stay. Both men and the women appreciate this fashion trend because it allows the woman to feel fabulous about herself, and it lets her show off to her man as well.