Let me guess… if I opened your lingerie drawer, what are the chances that I'd find black, white, nude or red underwear? Very high, probably… as most women tend to rely on the true, tried and tested underwear colors when shopping for lingerie without realizing that the market has a multicolor and rich palette for us to choose from. That said, if you're planning to go shopping for lingerie and would like to stretch out of your comfort zone and make some bold decisions regarding the color of lingerie you choose, this article packed with useful tips will be just what you need before you spend your money! Shopping for lingerie having the whole palette in mind can be challenging: with so many alternatives it is easy to think that you are making the wrong decision or that the burgundy bra that looks so charming on that Caucasian model may not exactly be what suits you best. However, avoiding these faux-pas is easier than what you think. Grab a mirror and look at yourself your own colors are your best starting point.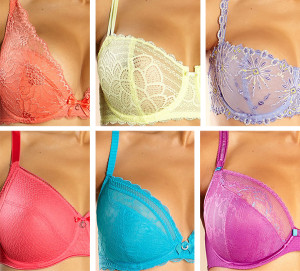 Focus On Your Eyes When Shopping for Lingerie
Your eye color can be a real winner when shopping for lingerie. Blue-eyed girls should go for underwear items in all shades of blue although browns are also very pleasing. For the green-eyed ladies, anything with green or with red and green will be spectacular. Shopping for lingerie when you have hazel eyes is easier as you can opt for underwear items in a variety of possibilities: blues, browns, greens and all earth colors. If you have brown eyes, choose purples and browns were shopping for lingerie.
Shopping for Lingerie Having your Hair Color in Mind
You may also want to shop for lingerie that complimeants your hair color. If you're a blonde, shopping for lingerie in pastel colors is your best bet. They won't compete with the brightness of your hair and, unlike dark color clothing, you won't look washed out. Brunettes should go for bold, strong colors and colorful prints: underwear in navy blue, green, purple or red will look amazing on your body. Sassy red-haired girls should think of sassy colors when shopping for lingerie: crisp blues, emerald greens or bright reds look gorgeous!
Shopping for Lingerie that Matches Your Skin
If you're proud of your gorgeous porcelain skin, when shopping for lingerie make sure that the colors you choose don't opaque your beautiful skin tone. Powder colors are the safest but if you'll opt for slightly brighter colors, make sure that they match either the color of your hair or your eyes. Tan and olive skins should stay away from pastels. Remember that you are shopping for lingerie because you want to look fabulous! Ebony and dark skinned ladies have almost the complete color palette to enjoy: pastel colors look gorgeous, bold color shades are the perfect fit.