Stockings are one way to stay cozy in winter but they are great to wear in summer too. Although the weather is hot, in summer, wearing stockings is still an expected point of attire when heading out to social events. Wearing stockings on those important occasions is part of the culture. Knowing how to wear; stockings in summer is important if you want to stay cool. Showing bare legs in shorts and swimwear is trendy but when you are called upon to wear stockings in summer? There are many styles of hosiery to give legs special flare.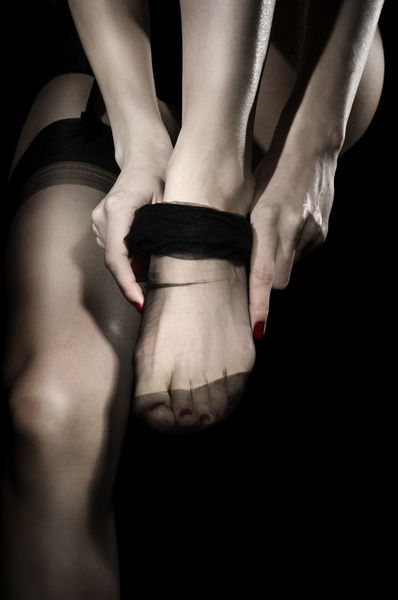 Most Comfortable Stockings in Summer
The smaller the denier number, the sheerer the stockings are. Popular weights for stockings in summer are seven and fifteen denier. These keep the legs looking natural. At the seven weight, which offers coolest sensation, you barely know you have stockings on. A search for stockings will take you from vintage luxury to modern fashion accessory accents in stockings. If you do not want full coverage (opaque) style and want a bit of a breeze, try attractive lacy hose, nude fishnets, and hose with feathered lace or subtle stripes. Stockings are also designed in splash paint colors that can accessorize any unique outfit you imagine. Wear stocking full length or thigh length with an outfit.
Stockings have evolved. They are made from an array of materials, nylon, cotton, polyester, wool and luxurious silk. Girls have worn stockings under school uniforms and to keep legs away from the biting cold for years, now, the colors are glittery, and bright. Stockings are designed with seams, fishnets and ribs. Ones sexy stockings were considered to be made only for the naughty girl but theses options are open for anyone wanting to look great now. Stay-ups are the stockings type that thanks to silicone band stays on legs without falling, and without a need of wearing a garter belt. It is more modern style, however less recommended because of the tight discomfort it may offer, the marks it can leave and supposedly doesn't make varicose veins look any prettier.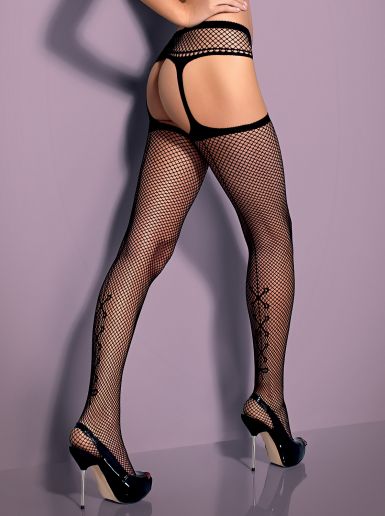 Stockings at Summer Night
Stockings worn with a garter belt (non stay-ups) are much more comfortable than finest tights. You still have the breathable room for breeze cooling your upper legs. Just remember, a garter belt is not to be shown to the public, wear a skirt that's long enough to keep it invisible. Another option are "garter stockings" that do not need a silicone band and they do not need a garter belt. They leave a breathable space around the hip area, but stay in place securely thanks to innovative design (picture at the right - black fishnet garter stockings from Obsessive).
Stockings with no seams are popular to wear with sandals. Choose a color that suits your skin complexion to give your legs a smooth, naturally seductive look. Give your look a touch of the past and wear stockings with seams (fully fashioned stockings), matched with stiletto heels. Today's colors offer styles that match almost any outfit and in a wide list of sizes. Invest in a nice selection and wear stockings in summer to suit your lifestyle. Shimmery is still the way to do evening wear right. Wear stockings with a little glitter and stay stylish throughout the night.