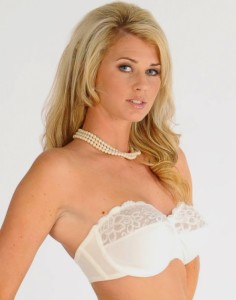 Strapless bras are an essential lingerie item especially for women who love wearing strapless evening dresses or tops. One of the advantages that strapless bras offer is that they help women look tidy and elegant at all times no matter what they are wearing as they can rest assured that there are no bra straps to be seen. Even those flattering summer dresses with delicate thin straps look much better and appealing when one of these bras is chosen!
Strapless bras were first introduced to the market in the 1930s, but women (and men) started to pay more attention to them twenty years later, when the fashion of the time called for naked shoulders as the ultimate expression of sexiness and seduction. Since those initial momeants, fashion has evolved and became more exciting and daring and lingerie has stood up to the challenges imposed by women's wardrobe demands and has become more creative and high tech. Bras are not the exception to the rule, of course, and in addition to strapless bras the market now offers plunge bras, silicone backless bras and even strapless push up bras.
Strapless Bras: Hate Them or Love Them
One of the must-have conditions of any strapless bra is that it should stay in place. That said, in order to provide you with the support you need, they are elasticized and wired so that you look gorgeous and your clothes look great on you. However, they are not probably the most comfortable piece of underwear in your lingerie drawer, not to meantion that wearing for long hours can lead to skin irritation and even blisters if you have ultra-sensitive skin or if you perspire a lot. Yes: looking sexy does have a price! And sometimes a painful one. That said, it is not uncommon to hear women saying that they have an ambiguous relation with strapless bras: they love them and they hate them with equal passion. They love looking gorgeous in that silky night top but hate the tight elastic band compressing their ribs and irritating their skin under their bust.
Alternative Bra Options to the Rescue
Silicone backless bras are one of the options that came to the rescue and women have adopted it with no doubt. They are comfortable to wear and satisfy two needs at the same time: they are strapless and backless. However, not all silicone bras are created equal. Some brands offer minimal stickiness and, therefore, they can only be worn a couple of times and, in some occasions, they do not stay on at all during the first wear. Other styles of silicone bras flatten women's breasts instead of giving them a flattering shape. The best silicone strapless backless bras are those made using the highest grade of silicon and adhesive.
Strapless Push Up Bras
Strapless bras with a push up effect are made with padded foam so that they are light to wear. If interested in buying one of these strapless bras, make sure you look for a reputable brand.