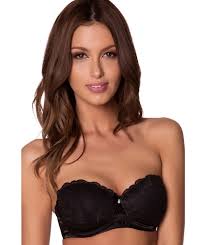 Many women's clothes look awkward when worn with a regular bra: tank tops with spaghetti straps, one-shoulder dresses, tube tops, halter tops, strapless dresses just can't be matched with a regular bra as its straps just ruin all efforts to look elegant and glamorous. In fact, all of these clothes require strapless bras. However, many women prefer digging these clothes to the back of their wardrobe as they find it almost impossible to purchase strapless bras that fit perfectly. If you are facing this issue, then this guide has come to your rescue. Go on reading and you'll learn the features that the best strapless bras have.
Strapless Bras and a Perfect Fitting Secure Band
In strapless bras, the band provides all the support to your breasts as there are no straps that can help. That said, when trying on any strapless bras, make sure that the band is quite tight and that it has a strong elastic that won't snap. Just as regular bras, strapless bras usually include a closure in the back that can be adjusted to a couple of different band sizes. Make sure your strapless bras fit correctly on the first pair of hooks so that you can move to the next pair of hooks as the elastic stretches. However, it is worth meantioning that this doesn't mean that the band shouldn't be too tight either as it can cause unsightly bulges that will ruin your glamorous look. The band of your strapless bras should disappear under the clothing so that you look tidy and attractive at the same time.
Strapless Bras and Cup Sizes
It is highly advisable that you attend a bra fitting session before buying strapless bras to make sure that the ones you choose have the right cup size. Remember that if you wear a strapless bra with a cup that is too big or too small for you not only you'll be uncomfortable but you won't look nice as well. Make sure that the cups of the strapless bras you wear fit smoothly over the breast providing complete coverage while the underwire lies flat without digging on your side.
Strapless Bras and Their Fit
Independently of how much coverage you choose depending on the types of clothes you'll wear, it is important that your strapless bras lie flat against your breast so that they don't cause buckling or unsightly lines beneath your clothes.
Rubber Strips
Strapless bras should always include rubber strips at the top of the cup and within the band. These strips will help the bra grip better to your skin and minimize the chances of slippage. If the sales assistant offers you a strapless bra that comes with no rubber strips, don't buy it and make sure to replace any rubber that doesn't have the right sticking power.
Stylish Strapless Bras
Even though strapless bras should be as plain as possible so that they don't create unsightly bumps under your clothes, this doesn't mean that they can't be stylish. Many of them are decorated with lace, tiny bows or embroidery that makes them really attractive.