Karmaloop, that specializes in urban and street fashion got my attention. Their spring and summer dresses are a mix of retro and hip designs and patterns, commonly called a street fashion style. Generally followed by youth, this fashion movemeant expanded and is now globally favored by women of any age.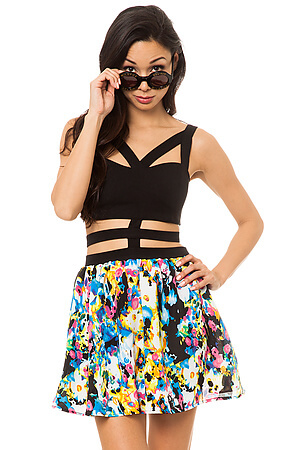 The Line Cut Out Dress by Reverse is in two piece style connected with cute wide black straps. High waist floral skirt is in sexy contrast to the black top. You don't need to wear a bra, as the bustier top is padded for best look and comfort. This style brings sweet retro recall with the open belly area and symmetrically arranged straps.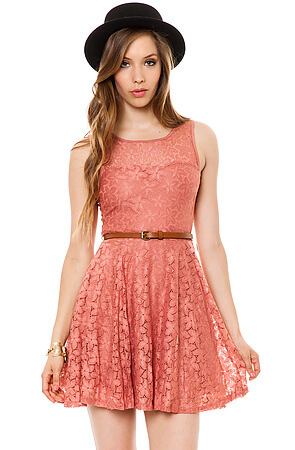 You can definitely fall in love with Spring season if you owe The Spring Love Dress in Peach by Glamorous. Light peach color and airy crochet lace style of this dress makes you want to jump on an adventure wagon. It is fun and playful dress revealing just an illusion of a cleavage. It is a dress style that presents best on a fully busted figure to give a thrilling contrast with belted waist. Add a hat, beige sandals or fancy boots and you are on your way to adventurous ride.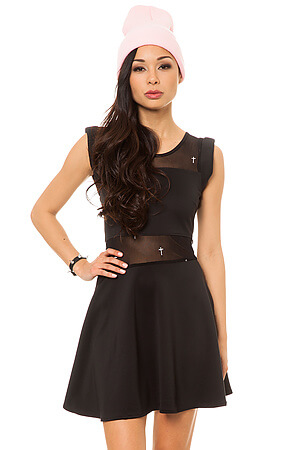 There is something about black sheer dress that we can't resist. Is it a self challenge to show a little skin here or there, or your need to see that hint of frisson in men when they realize what you are wearing? The Sheer Cross Dress in Black by Reverse is a fascinating combination of black modest cut, playful sheer insets and embroidered contrasting crosses on the dress bodice. Because of this saucy mix, there is absolutely anything you can add to the full look, even skaters hat.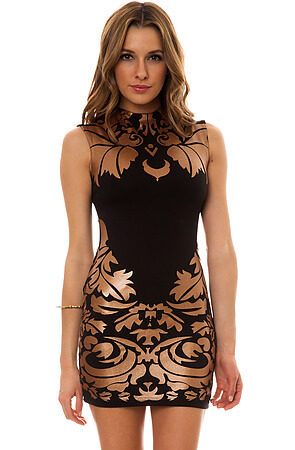 How about going out for a party dinner dressed all in black and gold retro printed dress? The metallic accents of The Moongazer Dress by LA Boutique are what makes this dress so unique. The style represents enough confidence to hide the cleavage. Do not over do with jewelry and shocking footwear. Classic black high heals together with a tiny watch or bracelet will work best with this jewel dress!