The use of lingerie is an art. Your body is your canvas. You can paint a picture of seduction and passion when you add some top lingerie styles to your bedroom routine. No woman should ever feel timid about adding some leather or lace to her lingerie drawer. Every woman needs to add some flair to her bedroom fashion ensembles once in a while. You don't need to add bells and whistles in order to get your man's attention. Sometimes a flirtatious rendition of the most popular bra style is enough to heat things up. The goal should always be to create feelings of comfort, beauty, and confidence in your own mind.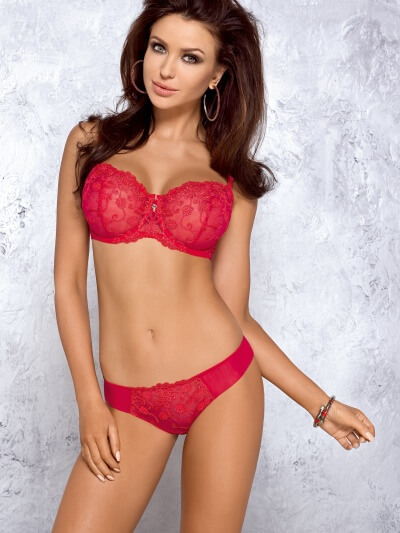 Raspberry red sheer balconette bra and thongsRaspberry red sheer balconette bra and thongs
Go Red
You can awaken your man's natural instincts by adding some red to the equation. Things will get hot and spicy very quickly when you show up to bed wearing red. You will find it easy to add a dash of fire to your lingerie drawer. Many simple and fashionable underwear styles are available in red. Be sure to look for red items with silky textures or velvet accents. Lingerie should always be a feast for the senses. You want to focus on pieces that are interesting to the eyes and smooth to the touch.
Embrace Sheer Seduction
You should never underestimate the power of a sexy sneak peek. Sheer lingerie is a great way to spark your man's imagination. You don't have to create an elaborate outfit in order to inspire his curiosity. A black sheer bra is the perfect way to add a sense of mystery to your appearance. Pieces featuring mesh or lace will help you achieve an edgy and feminine look. A balconette bra is the most popular bra style for bedroom adventures among women looking for a way to accentuate curves.
Sweeten the Deal with Sweet Little Accents
Small accents can create major sex appeal. You should look for lingerie items with small bows, fabric roses, rhinestones, tassels, or feathers if you want to add some flair to your look. The goal is to look playful and sensual without letting your lingerie create a distraction.
Dress for Success
Bedroom fashion should always make you feel comfortable in your own skin. A beautiful and comfortable piece of lingerie is the perfect way to celebrate your romantic side. The right piece can be totally practical, utterly sensational, or slightly sultry.