2015 has brought with it some of the best swimsuits yet. Bikinis couldn't have possibly looked any better. Lucky for you, 2015 is the year of swimsuits and not because of the designs but because of the variety available for every kind of figure and body type. Swimsuits are all the hype every summer and similar is the case for 2015 as well. Nothing gives you a better holiday feeling than a stylish bikini to flaunt that perfect body off. Swimsuits offer a huge variety in terms of pattern and color schemes, from unique shapes to the most original cuts, here are some of the very best ideas of this season.
Two Piece Swimsuits by Melissa Odabash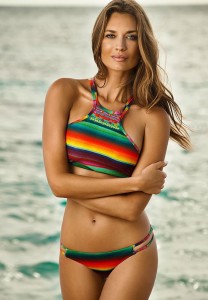 Many women consider the two piece bikini something of a taboo, thinking that you need to be lean and very fit to pull it off, but, that's not a necessity. Melissa Odabash came up with just the right kind of style, meant to complimeant every shape and size. If you don't want to put your faith in this two piece, that's ok. Try out different styles offered by Varley and kiini that have a cool feel to them. Not only will you be able to try something different, but you'll be making a statemeant with them.
Prism and Dioni Bandeau Swimsuits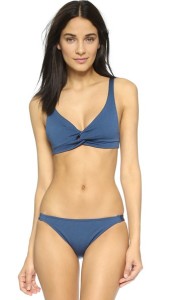 Pieces that appear to be nautical inspired were all the hype in the summer. Not only are these stunning bikinis show-stoppers, they tend to attract just about everyone. If you want to look classy and have a saucy touch with it, then opt for a striped set. Pair it with a wide hat and use a dark shade lipstick and voila! It doesn't get any better. Prism or Zeus and Dioni Bandeau have offered the right kind of style this summer with great room for your tanning needs. These prints are available in a variety of styles and colors too.
Sports-Luxe Swimsuits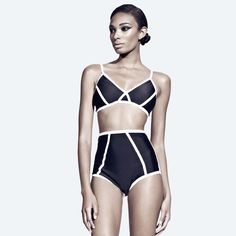 Swimsuits with sports-luxe look are the hottest thing to hit fashion industry this year. You must have seen a variety of stocks at different stores nailing this trend in particular. Zara should be your best friend as far as the super chic styles are concerned especially if you're looking to shop with a tight fist.
Swimsuits with High Rise Briefs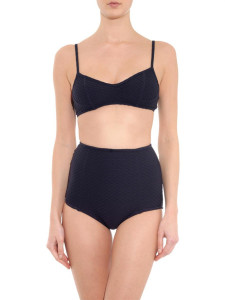 If you're feeling conscious about those love handles or that tummy bulge, it doesn't mean you have to boycott the pool or the beach. Finding the right set for your form will help; why not opt for the latest edgy styles by Mara Hoffman and Top shop? These swimsuits and high rise briefs allow you to maintain style and enjoy yourself without feeling a subconscious pinch regarding that extra bit of fat.