Your wardrobe can never be complete if it does not include swimwear. Of course, this is if you enjoy swimming. It is an integral part of summer wear, especially for vacations at the beach or by the poolside. The market today is filled with a wide variety of swimsuits to choose from, making it quite easy for everyone to find a suit that is perfect for their body type. The original swimsuits were the one-piece suits. They have been around for a while now. This particular type of swimsuit is good for water activities and is very popular with women who engage in a lot of water sports. One-piece swimsuits stay on well, besides providing good coverage.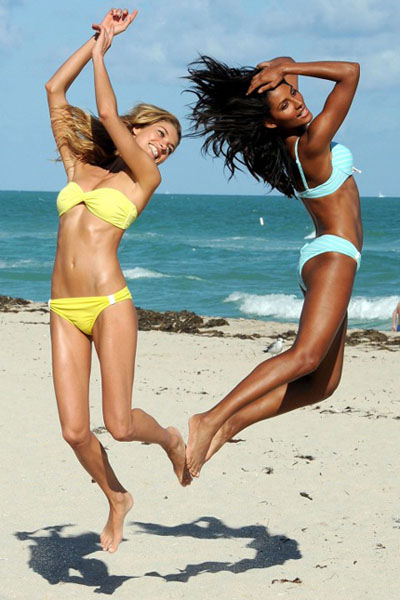 If you are looking for a more modest swimsuit, then a swim dress will do. Pregnant women mostly prefer them, since they feel comfortable. All the same, swim dresses can also be cute and fashionable. When looking for beachwear, the first swimsuit that comes to mind is the bikini. It is considered as a classic sexy swimsuit. Bikinis are available in the market in many styles such as the sexy bandeaus, halter-tops, as well as string bikinis. Regardless of the choice you make, it is quite impossible to go wrong with bikinis. However, it is worth noting that bikinis do not favor all body sizes, especially the larger sized women.
Tankinis
Tankinis are a combination of a bikini and a two-piece bathing suit. Women who desire more coverage, but enjoy the feel of a two-piece swimsuit can consider tankinis as an option. While the top resembles a regular tank top, the bottom looks like a regular bikini bottom. Tankinis are popular with young girls, since they allow freedom of movemeant while still maintaining a modest look.
Skirtinis
Skirtinis refers to tankinis, but with a skirted bottom in place of a bikini bottom. Skirtinis are preferred to tankinis because of the skirt style bottom, which has added coverage. Skirtinis are considered more feminine and are quickly becoming a hit for the modest lady, who still wants to have some fun in the water.
Monokini
Monokini is by far the sexiest, besides being the newest bathing suit style. It is a one-piece bathing suit, only this time with the sides and in some occasions other parts cut out. Monokinis are dethroning bikinis as the sexiest swimwear. This particular style is bold and bound to attract a lot of attention. It is not for the self-conscious woman. With all this in mind, I believe it should be easier to make a more informed decision as regards to which swimwear suits you choose.