It can be a really good sign when a love interest invites you to enjoy some fun in the sun with his family. The invitation can also be a big cause for panic. There is a lot of preparation involved in attending a family pool party or beach trip. You suddenly have the pressure of getting a pedicure, shaving your legs, and making sure you own a swimsuit that won't cause a scandal. That frilly bikini or tantalizing thong you love to wear when you're at the beach with your man won't quite cut it when you're spending a day with his family. Making a good impression is all about finding appropriate swimwear without suppressing your true style. You should never aim to make jaws drop or tongues wag on a wholesome family beach outing. Are you headed to the sea with your sweetheart's family? You need some swimwear tips to avoid making a splash in all the wrong ways.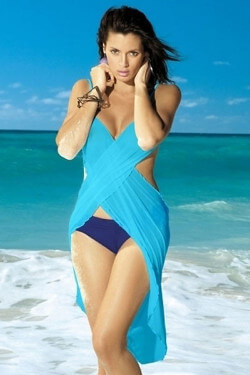 All the Right Bases
The right outfit should help you look wholesome without looking frumpy. You shouldn't feel shy or ashamed about your body in front of your man's family. You also shouldn't go out of your way to flaunt your assets. You simply need to find a flattering swimsuit with moderate coverage. Bikinis should be avoided in most cases. Try to aim for a playful tankini or one-piece swimsuit. Boy shorts and supportive halter tops are preferred over other cuts if a bikini is your first choice. It is important to pick a style you feel comfortable moving around in. You don't want to risk exposure if you start playing with your man's adorable little relatives during the family festivities. You can do a little jogging at home in your swimwear to test if it stays in place.
Create Visual Distractions with Accessories
You might not have to purchase a brand new swimsuit in order to avoid showing too much skin on a family trip. A fashionable wrap or pair of cloth shorts can offer you full coverage over the swimsuit you already own. An act as simple as tying a scarf around your neck can detract attention from your cleavage or naval.
Make a Strong Impression with Cheerful Colors
Wearing a bright color is a great way to come across as cheerful, upbeat, and approachable when spending time with your love interest's family. There are many great European swimwear options featuring vibrant color patterns. Many vintage styles of swimwear feature cute buttons and bows that will help you look adorable and innocent.
Swimwear Looks Great with a Smile
There is a lot of pressure involved with finding the right swimwear to wear around your love interest's family. It is only natural to worry about being judged or making a bad impression. A lovely bathing suit and positive attitude are all you need to win over any family. Your confidence will get an instant boost if you treat yourself to a gorgeous piece of European swimwear with full coverage or moderate coverage. Always remember to breathe, relax, and just be you.