Today I am going to write about my most comfortable bras.
2-pack Dynamic Duo Comfort Bralette - The T-shirt Sports Bra, By Lily of France. Oh How do I love Thee? I shall count the ways. Because lets get real, there are one hundred reasons the sports bra are lovable. Lily of France adds one hundred and one (maybe two or three).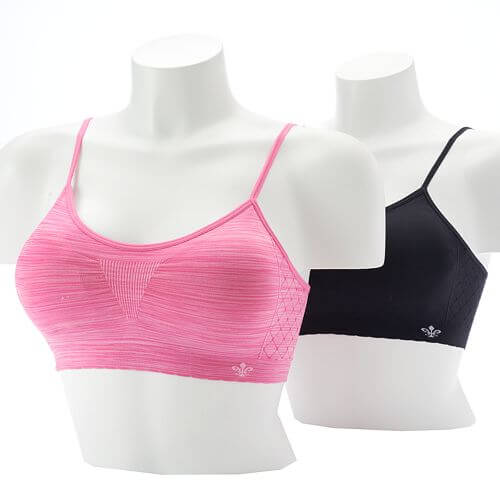 The Name Lily of France is a very well known brand. The Lily of France brassiere can be expensive. Why? Because they are worth it. How much? Anywhere from $48.00 But (yes, there is a but) if you are a frugal and a keen shopper, as I am, you can find these bras for next to nothing in price. (Thanks to Kohl's, Marshall's and online shopping blogs like THIS ONE).
Two on a ticket Yes Yes Yes These beautiful bundles of comfort are sold two on a ticket. So when we speak about worth the money, you now understand- you are always buying two for one. Add the froogle shopper and (Explosion) my mind is BLOWN!
Comfort We all know that sports bras are comfortable but Lily's are super comfortable. The quality of the fabric and make is super duper awesomeness. Like wearing butter cloth (imagine if butter cloth existed, hehehe). Anyways, very soft. There is enough stretch to move with your active life but not to stretch to the floor. The Big Boobs know what I mean- annoying, stretched out, in one wear. Not these Bras. They are accurate to the size. (S/M, M/L, L/XL). I wear size L/XL and I wear it proudly. The bra itself has a removable thin pad in the front to protect the super sensitive NIPPLE. Yes I said it and mean it. I know there is no knowing when my nipple is going to stand salute like a U.S. Soldier. Throw sweat and t-shirts in the mix, we have one rosy cheeked Suzy (that's me) and some very happy onlookers (that's them). So I personally leave the light padding in. So Stylish The Lily of France bras are super trendy today, super stylish. The latest colors and patterns. They have a cute little crescent mark on each one. The thin spaghetti strap fits out of sight, under most tanks. If that is your desire. They also can be worn as the every most trendy, layered look. There are so many pattern schemes out there today. We find them everywhere, the legging, the shirt, the panties and the bra. Mix or match with panties whatever your suitor. I tend to dress, my ladies, in the cutest, most comfortable attire. I find that when my undercarriage looks good I feel good, always. My favorite style bra that I am rocking today is the t-shirt Lily of France. Size L/XL, spandex, multi-colored pin stripped with matching panty (sold separately). Enjoy, stay comfortable while remaining cute.