Choosing the best sports bra for your cup size is not a minor detail. In fact, just as you spend time selecting the right sports shoes for your fitness training and decide which outfit makes you look more gorgeous at the gym while you sweat, you should dedicate the same amount of time and effort to opt for the most appropriate sports bra for your cup size. In fact, no matter what kind of fitness activity you engage in, wearing a sports bra is essential. A sports bra will make you feel more comfortable and will give you the right support your bust needs. If you'd like to make wiser underwear choices for your fitness activities, along the following paragraphs you'll discover some interesting tips that will help you invest in the best sports bra for your cup size.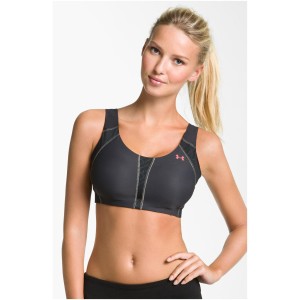 Why is Wearing a Sports Bra So Important?
There are multiple reasons why wearing a sports bra is important no matter what your cup size is. These bras prevent the uncomfortable and even painful bouncing that women experience when they engage in fitness activities. Remember that your breasts are made of delicate tissue and therefore they require the correct support and right fit during exercise in order to avoid permanent breast damage. Sports bras are designed to keep your breast in place as you move so that they are not bouncing in multiple directions.
Selecting a Sport Bra for A-B Cup Sizes
If you usually wear A or B cup bras, you'll probably feel more comfortable opting for a halter-style sport bra. Even if its style seems too sexy to be worn as you sweat your extra pounds away in the gym, don't let its sex appeal fool you. You'll be surprised by the support it provides for small-breasted women even if they allow a lot of skin to show. Sports bras designed with comfortable jersey in razorback or seamless cut style will also make you feel comfortable and you'll be able to find them in multiple shades and colors.
What Sports Bra Should B or C Cup-Sized Women Wear?
If you are B or C cup-sized woman, a safe sports bra style is the compression bra. Compression bras provide you contour without flattening your breasts. They also offer you the support you need while performing a physical activity and, most important of all, they conform to your shape. Many women also rely on sports bras that are designed with lightweight material that lets your skin breath. This can be advantageous if you sweat too much and you've got sensitive skin.
The Sports Bra ford D or DD Cup Sizes
Large busted women looking for a sport bra should focus their attention in a sport bra with a crossed back. These sport bras are great because they look like ordinary bras in the front but the crossed straps in the back offer the so much needed additional support that women with larger breasts require. You may also find out that wearing a sports bra with venting material especially comfortable as they are designed with lightweight material that won't make you feel so hot. As it can be appreciated, there's no need to put your breast health in risk while doing any fitness activity. You can easily feel sexy and protected while you sweat your extra pounds away by choosing the best sport bra for your cup size.