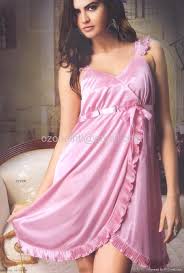 Years ago, choosing nightwear seemed easy as the fashion and lingerie industries didn't bother to offer women many nightwear items that were practical, comfortable and sexy at the same time. In most cases, nightwear options were either extremely sexy (what made them inadequate for everyday wear) or were so ultra comfortable that sexiness was the last thing you had in mind when you had them on. However, over the last decades fashion and lingerie designers have implemeanted changes in the nightwear design that strike the right balance between comfort and sexiness. In this article we're going to discuss diverse nightwear options that will assure you a very relaxing night's sleep. Which one will you choose?
Nightwear Sets
Nightwear sets are probably the most purchased items for a good night's sleep. They are generally a pack of a top shirt paired with a short length, full length or three quarter pyjamas. Most nightwear sets are made of cotton but there are many beautiful ones made of silk or satin. Needless to say, nightwear sets come in a wide variety of colors and designs not to meantion funny prints. Most women love wearing a nightwear set to sleep. They are comfortable, relaxed and have that slight masculine essence that suits women so much.
Thinking of A Sexy Nightwear Piece? Babydolls!
If you are looking for a nightwear that accentuates your femininity, then don't think it twice and buy one of these nightwear items for you. They are short length nightgowns and they are generally made from sensuous fabrics: satin, chiffon, tulle or silk. Babydolls are usually nightwear items that are exquisitely decorated; in fact, some of them have luxurious embroideries in the bust area to make women feel even more glamorous.
Looking For Comfortable Nightwear? Sleep Shorts!
Sleep shorts are probably the most comfortable nightwear items: they are made from viscose so that they are ultra comfortable. They can be combined with any upper outfit: from a cotton t-shirt to a silky camisole! Ranging from sensuous to cute, nightwear can be a celebration of the different moods that you are in every day. Nightwear is no longer dull and practical! Even if it is true that probably only your special someone sees you in nightwear, don't miss the chance to have a variety of nightwear items to wear every other night. Doing so will definitely add excitemeant to your night!