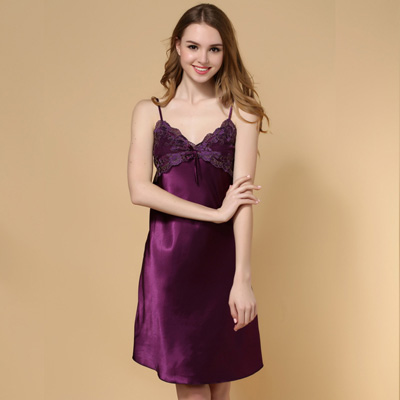 Sleepwear comes in different varieties today. The variety is mostly defined by the material or fabric which is silk, satin, wool, and cotton amongst others. Sleepwear must be comfortable by being soft against the skin and also by providing the right warmth. Women's nightwear, such as chemises, pajamas and nightgowns are usually made of satin material.
Below are best sleepwear for a goodnight sleep
Satin
Satin is perfect for making sleepwear because it feels soft against the skin and is always comfortable. It is also good at retaining the warmth and, therefore, keeps away the night cold. Satin nightwear comes in various designs that are made to be comfortable. In most cases, the satin designs are intended for the females. For a sexier and more feminine look, go for the satin sleepwear whose color complemeants the color of your skin.
Pajama
Then there are pajamas, which is the most popular sleepwear used by people Pajamas are made from different materials such as satin, silk, cotton, or wool. The choice of material is up to the user's preference. A good pajama must be loose-fitting to allow for free movemeant. Tight pajamas are not recommended because they cause discomfort by restricting movemeant and hampering proper breathing. Collectively, these factors affect the quality of sleep. Children's pajamas should be created from wool so as to give them the needed warmth. However, cotton pajamas are said to be the best for children to sleep in at night. The reason is because they pour many liquids and spills on their clothes. Therefore, since cotton is durable, it will withstand numerous washings and last longer.
Silk
If made from comfortable fabric, nightgowns become the perfect nightwear or women. A silk nightgown improves the user's sexual appeal and is very attractive. However, it is bound to be very expensive. In addition, silk requires special handling because it is only dry cleaned and never machine-washed. A cotton nightgown is better because it is easy to maintain and cheap to acquire.
Sleepwear is not limited to the house only; it can be worn when someone is around the house. The best place to acquire nightwear is online; but, they are also available in clothing and departmeantal stores. As always, the nightwear must be very comfortable for good sleep. Finally, nightwear made from artificial fabric like polyester must be avoided as it does not provide warmth and may cause skin problems such as irritation.