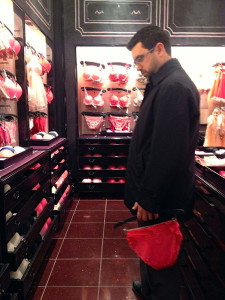 Generally speaking, men are not that good when buying lingerie for women. Many a time they behave as small kids in a toy shop and buy fancy lingerie items most woman are not willing to wear, they fail at choosing the right size or type of lingerie and last, but not least, they have little idea of the kind of lingerie we are really interested in (or would love to have). That said, this 101 guide has come to your rescue. It's packed with handy tips that will make it easier for men to choose the right item when buying lingerie for their special lady.
Buying Lingerie: Size Does Matter
If most women are unsure of the bra size they should wear, we cannot expect it to be different for men. In general, bra sizes are expressed in letters: A, B,C or D. Other times, they are expressed according to a woman's chest size. And other times it's a combination of the two. To make things easier, when buying lingerie for a woman, men can evaluate the size of her breasts by comparing them with a fruit:
Are her breasts like 2 half lemons? Then she's size A
Are her breasts like 2 half oranges? Then she's size B
Are her breasts like 2 half grapefruits? Then she's size C
Are her breasts like 2 melons? Then she's size D.
Don't Forget Her Hips When Buying Lingerie
When buying lingerie for a woman men should also take her hips into consideration. If she's somewhat self-conscious of her hips, it is advisable that you stay away from lingerie items that reveal her hips or bring your attention to them. It is much wiser that when buying lingerie for her you opt for those lingerie items that hug her hips gracefully or that hide them a little bit. Need ideas? Then think of sheer baby-dolls or lacey night dresses.
Think of Her Body Type When Buying Lingerie
Buying lingerie for a woman having her body type in mind will make your shopping experience easier and will grant you a big smile on her face for sure. When buying lingerie for a pear-shaped woman, she'll fall in love for something slightly loose fitting on the top. An A-shaped baby doll will work wonders. If she's small-busted, you won't fail if you think of push-up bras or padded bras when buying lingerie for her. Which woman doesn't want more cleavage?
Know Her Personality!
Buying lingerie for your woman will be like any other gift you've bought for her in the past if you don't match it with her personality. If you haven't seen her wearing crotchless panties, you might want to explore this idea with her before buying her a pair of them. On the other hand, if she's always had an extrovert and adventurous personality, buying lingerie items that exude sexiness will just seem natural.