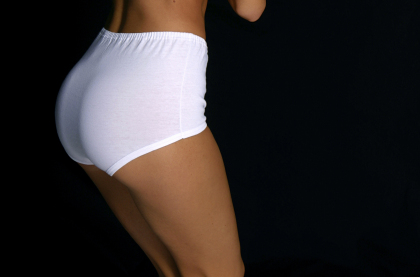 We love sexy thongs and tiny little hipster panties, but is there a revival of the granny panty happening right now? The New York Times reported Wednesday that young women are increasingly embracing "granny panties" and spurning thongs, proving that now more than ever, women are dressing and shopping for themselves. Are the younger generation or millennial women embracing the "granny panty" trend? According to sale studies among leading lingerie and panty retailers the sale of the thong has decreased by 7 percent over the past year. Sales of full coverage panties and the boy brief have increased a collective 17 percent. Erica Rousseau, fashion director for accessories, cosmetics and intimate apparel at Bloomingdale's, confirmed there has been a "shift in the business." Are the numbers and fashion experts trying to tell us something? Please say it isn't so!
Why The Granny Panty Has Become So Popular
Fashion may have some influence over shopping trends when it comes to your underwear. High waisted and roomier pants have dominated the runways this season. Maybe fashion trends have swayed us to embrace the same type of underwear. We have recently become a very body positive society. A size 10 model is now considered sexy. Ashley Graham has modeled full back panties as a pioneer for body image maybe she has evoked a change in our choice of under garments. We are not going to lie maybe we have worn granny panties throughout the month and not just during our "period week". There is a certain comfort level to them.
Are We Rebelling Against Our Sex Appeal?
Baylis and Toledano are part of an all-female creative collective founded by Petra Collins called The Ardorous that explores feminist topics from a millennial point of view through collaborative and solo art projects. "Most lingerie is designed to appeal to a man," Baylis said. "For us, that's not even a consideration. This is underwear you wear totally for you. Maybe no one will see it, or maybe you'll put it up on Instagram to share with everyone you know."