Nude beats White
Wearing white undergarmeants has been the instinctive choice for a lot of women who want to buy lingerie that doesn't show under white clothes. Let's start with the basics; what was your first bra like? Was your first choice white? Most people choose white thinking it won't pop up like a black bra. It does exactly that, not because the color is white but because it has a stark difference from your skin tone and that is why it will definitely "show" whether your shirt is white or not. Nude shades have replaced the classic white and it's perfect for coverage.
Today, there are nude shades for colored, Asian and white women. This is a fairly recent revolution that the lingerie industry has welcomed. Nude bras and panties are (the right one for your skin that is) very flattering for your figure. Nude is the new safe, the new everyday day sensible. This doesn't mean that you have to discard all your white lingerie but it is definitely better to replace the everyday whites with nude lingerie, especially under white and pastel shaded clothes. Lighter color shirts, tops or dresses cannot be coupled with bold colors and white becomes a bold color for you, especially if your skin tone is darker. If you're confused as to what you should be wearing under that lovely summer wardrobe, nude lingerie is the perfect choice.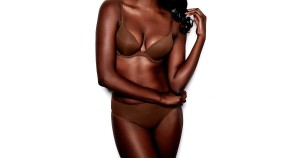 Show Off that BRA!
No one has skin as white as an actual white bra and that makes your skin stand out, which is perfect, if that's what you intended. White lacy underwear can look stunning with white tops if you're looking to really showcase your body.
NUDE doesn't mean Beige
There are different kinds of nudes in the market now. However, this was not always the case. A couple of years ago nudes were synonymous with "beige" or lighter tones. Finding the right kind of nude if your skin was a shade too darker was a dream. Find the closest possible color to create that invisible look you want under white clothes, THAT is nude. Women with paler skin should opt for colors such as Panache Porcelain as it is light enough to blend with their skin. Similarly, know the difference when a lingerie retailer offers you a beige underwear, as if it is the universal standard for all skin colors.
Comfort is Key
Nude shades are best for everyday use, especially when you're fond of lighter tone clothing. If you're looking to wear more nudes than any other colors than you should stock up on underwear that can be categorized with comfort more than the "look" or the sex factor. Get your boudoir looks, corset styles and combinations of lace, and all the finery in nude, these can look killer, perfect for occasions. But, try to keep things basic for regular use. Comfort is what nude lingerie is all about, its focus is on making all kinds of clothing easy for you.