Even though people come in all different sizes and the definition of beauty depends mostly on each person's opinion, it is true that many a time small-breasted women consider purchasing a bust enhancing bra to feel sexier and - if we may say - even more beautiful. There are multiple reasons why women may invest in a bust enhancing bra. Every woman is different and she might be motivated by different urges, needs or desires and each reason definitely affects the kind of bust enhancing bra she decides to buy.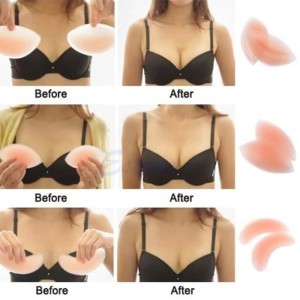 In this article we are going to discuss the three reasons we consider are the most convincing ones to purchase a bust enhancing bra.
A Bust Enhancing Bra For Additional Confidence
Some women are not affected by having smaller breasts while others feel that their confidence or ability to interact more efficiently with others can be improved by wearing a bust enhancing bra. From push up bras to balconette push up bras or gel-filled push up bras, there are many bra options in the market that can make smaller breasts look bigger. If you feel identified with this scenario, then having a bust enhancing bra in your lingerie drawer will contribute to providing you with a more desirable physically appealing appearance. Needless to say, a bust enhancing bra can also boost your bust line to wear a certain outfit for a special occasion. For instance, wedding dresses or elegant long dresses usually look more flattering and sexier on women with an enhanced bust line.
A Bust Enhancing Bra Helps Clothes Fit Better
Women with smaller breasts usually find it harder than other average women to find outfits for the upper part of the body that fits them correctly. Tops, blouses, summer dresses and even some t-shirts look great on shelves or pictures or on pegs but then look totally unflattering when women with small breasts try them on. That said, wearing a bust enhancing bra while shopping for tops or blouses can really broaden your options and make your shopping spree a funnier experience.
A Bust Enhancing Bra For Additional Style
When looking for a bust enhancing bra for you, you'll realize that there is a wide variety of them in the market. They come in a varied range of materials, styles and textures so you can rest assured that you'll find the bust enhancing bra that is more comfortable for you. Wearing one regularly will definitely spice up your style and make you look and feel confident and sexier no matter what clothes you're wearing.