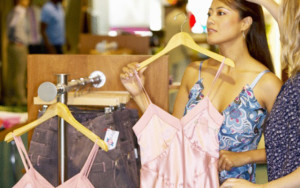 Who doesn't like buying lingerie? I guess everything a woman needs when buying underwear is time, money, enthusiasm and a lingerie buying guide. With so many underwear items for us to choose from, relying on a lingerie buying guide becomes our best friend when having to choose what item or items to add to your collection and discover all the options you have at hand that you may not be aware of.
Lingerie Buying Guide: Styles of Modern Bras
A lingerie buying guide would not be complete without a thorough description of the different styles of modern bras you can choose from in lingerie stores. If you are not sure of your bra size, most lingerie stores have knowledgeable sales attendants that can help you determine which cup size you are free of charge. In this lingerie buying guide we'll also include breast forms and enhancers as there are many of them available in the market that can help you enhance your bust and make sure it has the perfect shape you want and desire. Look into the bra section of any lingerie buying guide and you'll find the following styles of modern bras: balconette, demi-cup, full coverage, mastectomy, nursing, plunge, minimizer, push-up and athletic or sport bras just to meantion a few of them. Some of them, such as the mastectomy or nursing bras are used by women undergoing a special situation such as having suffered a mastectomy or breastfeeding their babies. You may not feel comfortable in some of these bra styles but you should talk to the salesperson, tell her what your expectations are and she'll help you find the style of modern bra you are looking for. Breast forms and enhancers are also part of this lingerie buying guide. Breast forms, such as those for post mastectomy, mimic the look, feel and weight of natural breasts and they are worn inside the bra or swimsuit so that women feel comfortable and confident. Other common enhancers are push-up pads and chicken cutlets, that allow women to have a sexier bust and add a cup of bra cups to their size.
Lingerie Buying Guide: Discovering bustiers and corsets
Even though you may not find important to discuss bustiers and corsets in a lingerie buying guide, you should consider that many women do wear them every day as functional lingerie. It is important to know that these lingerie items serve different purposes. Corsets are usually designed to significantly reduce waist size while the bustier is a strapless bra that provides support and definition to the breasts.
Lingerie Buying Guide: What Panties Should You Buy?
In this section of the lingerie buying guide we'll discuss the different styles of panties you can find in lingerie stores. Most women have their favorite type of underpantss but, who knows? Perhaps you can discover one in this lingerie buying guide that makes you feel even sexier! Thongs, g-strings, tangas, string bikinis, bikinis, high-cut briefs, briefs or low-cut briefs are some of the most common panty stiles that can't be missing in any lingerie buying guide. Whichever you choose, you'll find them in a wide variety of materials and colors so you can rest assured that you'll find one that perfectly suits your expectations.