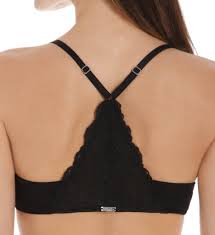 It is not news at all that women have a wide variety of bras to choose from. In fact, there is probably one perfect bra for each type of top or dress women may have in their wardrobes. Racerback bras are just one of the many bra styles. In this guide, we're going to introduce you to racerback bras so that you can decide if you need to add one of them to your lingerie collection.
Getting to Know Racerback Bras
Racerback bras have straps that angle inward toward the middle of a woman's back, as opposed to falling straight up and down the shoulders. Racerback bras are the most common style of sports bras as they provide maximum support when practicing any kind of physical training. Racerback bras are easily recognized by their design. As it has already been said, the back of the bra is shaped like a T or Y with straps fitting close to the woman's neck. Thus, straps stay firmly on place no matter how hard or demanding the training is. Most racerback bras are worn like t-shirts; that is to say, slipping them over one's head. Some models of racerback bras have front clasps but they are rather rare. Women with fuller breasts usually opt for racerback bras as they provide them with better support.
Learn to Buy Racerback Bras
With so many models of racerback bras available in the market, it can be a bit challenging to find one that really fits your perfectly. Just as any other bra, racerback bras come in different styles, types and materials. Knowing a bit more about each of them will probably make it easier for you to choose the one that suits you best: Racerback Sports bras are made of stretchy material with no underwire and are great for sports training. They have a wide band that adjusts right below the breasts and can be easily worn by slipping them over the woman's head. Racerback Posture bras help support the upper torso, thus keeping the woman's spine aligned and preventing the shoulders from slumping. Aesthetic surgeons often suggest women wearing one of these racerback bras after they have undergone a bust reduction surgery. They are made of elastic material that provide great support and are comfortable to wear. Racerback Fashion bras provide outstanding bust support while featuring push-up or padded bras: comfort and sexiness packed all in one. They come in soft and sexy fabrics such as lace, cotton, silk or satin. According to your needs and expectations you can choose any of these styles of racerback bras.
Shopping for Racerback Bras
Racerback bras can be purchased in most lingerie stores and, of course, they are also available online. Almost all the most important lingerie brands have designed awesome and comfortable racerback bras for you to buy.