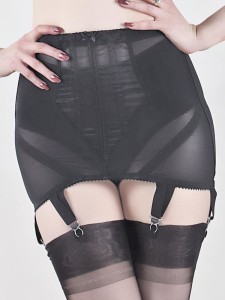 Does it sound strange? Maybe, maybe not, here are a few reasons why the girdle might be your new best friend!
When You're a Girdle Girl
Do you like to cover your legs when you wear a skirt or dress? Are stockings your best friend? If this is the case, you must be aware of the suspension that often needed to keep them upright. Here is the question that must nag you; is it practical? To live easier, quite a few women choose a selection of loose fitting girdles which are colorful, light and open bottomed: they accentuate unique designs and are loose to cater to your comfort. After all, it is highly inconvenient to wear the sexy yet tight; Rago Corsellette each day is it not? Being a working woman, it is hardly easy to squeeze into these on a daily basis -- So a simpler option is to attach your stockings to a loose girdle. In a couple of minutes you're ready!
The Not-So-Liberal-Girdle
People often misunderstand girdles; grimacing at their mere meantions as if they were a heinous contraption of the past. This is a common reaction from many mothers, most of who were young maids in the 70s, hopping out and about in their new tights, created to include the demands of their then evolving fashions. Stockings and girdles were then considered to be a restrictive garmeant, especially at a time of liberation.
The Age of the Girdle
Now with innovative designs, sensual color pallets, variety of structures and styles – we get to alleviate the negativity surrounding the idea of garter belts, stockings and girdles. You can safely enjoy your penchant for vintage glamour. The revisits to the era of 'pin-up', voluptuous and bodacious bodies are celebrated now. Designers like "Kiss Me Deadly", have indulged this trend by releasing collections that are a dichotomy of the past. They have spiced them up with various contrasts of colors and designs that make them more current and upbeat. The demands of the modern market are getting stronger when it comes to this type of lingerie. Girdles effectively suit and complimeant any body type – be it pear, apple or hour glass. The amount of material used is accommodating. A girdle pulls in the stomach, buttocks, back and hip: giving an appearance of a firm more shapely body. They don't have a cumbersome array of zippers, lacing hooks and eye sections that one would usually expect. Girdles are light and durable; also they are not a task to wear. Loose girdles can be worn in seconds and trust them ladies, they don't let you down!