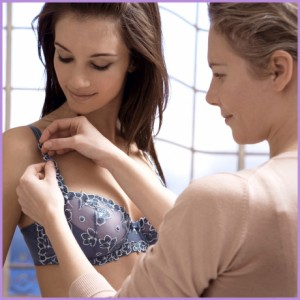 The world of lingerie has evolved so much and yet women face a terrible thing without even knowing. Around the world more than 80% women wear the wrong bra size all their lives without really knowing. This problem persists equally in countries like U.S. How unfair is it that most women go on their entire lives wearing the wrong bra size? It's cruel really. I must confess that I myself had problems with my bra size and I had never known until I did my own research and found my size to be incorrect.
Meet a Professional
Stop Guessing and go see a professional. I picked up tips from all over the internet and met with professionals who helped me finally choose the perfect size for me and now that I'm wearing my perfect size, I feel comfortable and confident like never before. I learned that you can experience a wonderful pleasure when your wearing your perfect size. The first and foremost we'll talk about is why you need to see a professional. By professional I mean small lingerie stores where you get your fitting done and get extra attention to boot. Some of the most common reported problem women have had is: big unsupported breasts, the pigeon chests, deflated boobs (usually post-pregnancy induced) and most importantly the ever so annoying 'back fat'. All of these problems had the same solution; wear your right bra size!
Spend More
The journey to wearing your perfectly sized bra isn't easy, its going to cost you and by cost you, I mean it's literally going to cost you. The thing with perfectly fitted bras is that they're costly but, absolutely worth it? You'll have to spend an average of $80 to get yourself the perfect shape. I know you're probably thinking of al the things you could buy instead, a pair of shoes or that new top you've been craving. Well, I will only say this: if you won't have the perfect foundation, you will never be able to build your image around it. A perfect fitting does wonders for your style and overall clothes just look better. Whenever you wear an amazingly fitted bra underneath your outfit, you'll feel at least ten times more confident and attractive. It's quite the opposite if you chose to wear an ill-fitted bra under your super expensive dress that you had hoped to pull off gorgeously.
Get your fitting
My sister just recently argued with me that she had absolutely no desire to get her bra size checked because she had always known her bra size (my sister's a 34b) all her life. Well, the truth turned out to be quite different: there is no forever and always size in bras. Over the years you go through several hormonal changes, weight changes and if you're a mother than only you know the innumerable changes you go through. The best thing is to go for a yearly or even every other year for get your bra size measured.