Let's face it: most of the times when we picture colored lingerie in our minds, only red, white, black, nude or pink items of lingerie are the only colors that we can think of. However the palette of colored lingerie is much wider and intrepid and women do not need to rely on the old traditional ones… at least not on an everyday basis. Most women are bold enough when buying lingerie for themselves to try different styles of lingerie and underwear and they may even have a couple of items reserved for those ultra special nights. However, they don't usually shift away from their comfort zone when picking colored lingerie.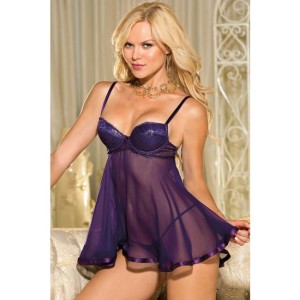 If after reading these initial paragraphs you've realized that there is no excitemeant in your colored lingerie and that you've been wearing pink, red, nude or black lingerie and underwear for months on end, we invite you to dive head first into a lingerie store and ask for colored lingerie in the most stunning shades you can think of. If you need some extra courage to do so, here are three strong reasons why colored lingerie should be part of your lingerie drawer.
Colored Lingerie Makes You Feel Differently
Wearing plainer underwear to the office is comfortable and practical. However, imagine yourself wearing burgundy lingerie under your work uniform? It would make you feel powerful and different. And this is exactly what colored lingerie offers you: the true feeling of uniqueness, of specialty. Or think how would you feel when wearing a sexy emerald green bra and pantie set next time you go on a date with your significant other? It will be your secret and he'll be truly surprised when you take your clothes off! In other words, colored lingerie add to the feeling of surprise and sassiness that we all need to experience from time to time.
Colored Lingerie Will Boost your Confidence
Women say that one of the most important reasons why they invest in lingerie is because it makes them feel more confident. And just as you wear white lingerie on your bridal night or red lingerie when you are playful and want to feel sexy, choosing among the varied palette of colors that colored lingerie has to offer can boost your self-confidence in many ways. For instance, if blue makes you feel calm and shakes your nerves off, why don't you choose blue colored lingerie next time you have an important job interview?
Certain combinations of colored lingerie can help you accentuate your best assets
Women are known for choosing their clothes carefully so that they look their best. This is especially true when they choose their underwear. Most of them seem to know which style of bra or thong flatters their body the most and conceals to the eye of the man those areas of their body they're most self-conscious of. Having this mind, certain combinations of colored lingerie can also contribute to accentuate your best body assets. So, next time you want to combine colored lingerie items, think first of which colors make you look sexier, slimmer or more gorgeous. I'm sure you already know what shade of colored lingerie looks better on you! Try the two different colored lingerie items on and see how they work together. If their combination makes you look great, then stay with it. If unsure, try another combination until you find the right for you.