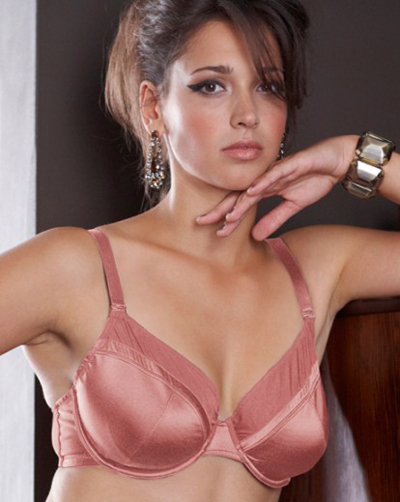 Lingerie is an important part of your day-to-day wardrobe, from work, to the fitness center and every special event you attend, and with the capacity to make you feel and look stunning, the impact of a great bra that fits in is indisputable. Yet, it appears like the lingerie wardrobe is one that is ignored by most. Building your lingerie collection is simply as vital, if not more so, compared to collecting your clothing wardrobe. A bra, which is put on for a lot of months, or even years, isn't going to offer the same preferred effects, a terrific lift support, as a brand new one. Therefore, if it is time to makeover your lingerie drawer, here are the important items a woman must have.
1. The everyday bra
If you are planning to splash out on any item in your lingerie assortmeant, this certainly will be it, since, as the name suggests, you will put it on regularly. When you are searching for a day-to-day bra, look for a design, which will match your shape and that you are going to feel at ease in it. Your day-to-day bra must reflect your way of life, if you are employed in an occupation where you put on a shirt, perhaps a smooth seamless bra cup could be an excellent option.
2. Shapewear
The answer to shapewear is finding out the area that you are mindful of. You will discover countless diverse designs to select from, whether it is a waist clincher or slimming panties, you will have no difficulty getting the best shaping clothing for you.
3. A robe
A robe is the kind of item all women need without realizing it! Lounging in your home, carry it along traveling, a pamper procedure and after a shower. A good robe must be easy, simple and soft to throw on at any time it might be needed. The fabric of the robe is totally a personal option. Chiffon or light silk robes are amazing in hot months and can also be turned in trendy beach cover-ups.
4. The multi-way bra
After getting a multi-way bra, you will ask yourself what you ever did without, from one shoulder to halterneck, low cut to backless; you will in no way have a lingerie problem again. For optimum adaptability, choose a plunge or low cut design that can be put on under any kind of neckline.
5. Seamless panties
Visible Panty Line is going to be something of the past. Innovative technology implies fabric may be electronically welded, a revolution in an invisible inner wear. It is as well an excellent option for anyone not used to thongs, and also great under sheer or white fabric skirts or trousers. Best of all, your lingerie must make you feel comfy and look terrific. Therefore, with these five items in your lingerie wardrobe you can start to grow a fantastic collection for yourself.