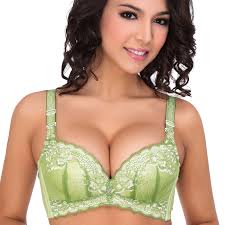 Women love push-up bras because they enhance their look in a fun and sexy way. Push-up bras lift breasts up with the help of padding, underwire and boning so that women look sexier and much more voluptuous. If you've been shopping around lately for push-up bras then you have probably noticed that not all of them are equal. In order to find the push-up bra that is best for you, you need to read these savvy tips first.
Does Your Push-Up Bra Fit You Properly?
One of the most important things you should look for in a push-up bra is proper it. If it is too small for you, you can expect to suffer from back pains and painful red marks across your shoulders not to meantion bulges that can ruin your look. On the contrary, if it is too big, it won't provide you the right support to your breasts and your cleavage will not look sexy or glamorous. That said, it is highly advisable that you allow some minutes to schedule a bra fitting session at any local lingerie store. Most of them have salespeople that can measure your breasts and inform you what size of push-up bra you should purchase. If you have already had your breasts measured but you have recently lost or gained weight or you started exercising regularly, you can measure your breasts again. It will only take you a few minutes and it won't cost you anything!
Construction
It is also important that you ensure that the push-up bra you're interested in is well constructed. Your push-up bra should have high-quality fabric such as Egyptian cotton, lace, velvet or satin and a top notch workmanship. Its stitches should be neat and soft so that they don't scratch or harm your skin. Padding is what makes a push-up bra so attractive. Pads in the bottom inside of the cups help to lift the breasts while those closer to the top of the cup make the breasts look larger and fuller. The pads in your push-up bra should be smooth so that they enhance your volume naturally. If you are a large-breasted woman, choose a push-up bra with little padding and wide straps while if you are small-breasted, you should opt for a push-up bra with more padding.
Invest In A Stylish Push-Up Bra
Push-up bras come in a variety of styles to suit the needs and expectations of almost every woman and make sure they work properly regardless of the clothing or outfit they're wearing. Amongst the most common styles of push-up bras you can find we can meantion: balconette push-up bra, two-strap push-up bra, one-strap push-up bra, demi-cup push-up bra or strapless push-up bra. When choosing which one to buy just try a couple of them on to see which one you like best, which look better on you and, of course, which one enhances your breast best.