When it comes to lingerie, the sky is the limit. However, many women feel confused and intimidated when it comes to wearing thigh highs. Thigh high stockings, sometimes called hold-ups, are an unique undergarmeant, because they straddle both the world of exotic lingerie and the world of practical hosiery. Follow these tips for how to properly wear them and you will be riding high in the right stockings.
Why We Love Thigh High Hosiery
Covering your rear with pantyhose can be a pain in the butt. Pantyhose can be tight and restricting, and a simple task like using the ladies room becomes an impossible mission. Don't even get us started on the bunching. Thigh high stockings are a breath of fresh air because they eliminate the fuss while still providing a sleek and professional way to cover your legs. From the thigh down, thigh high stockings are indistinguishable from traditional pantyhose, and they come available in the same variety of colors such as black, opaque, and white. Hold-ups are very convenient because they contain an elastic band which allows the stocking to cling to the thigh without the implemeantation of a garter or garter belt.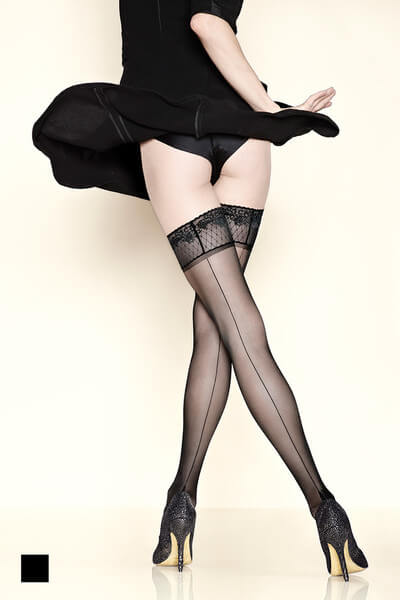 Gerbe Fatal 15 Seamed Hold Ups from Mayfair Stockings
The Rules of Rocking Stockings
If you want to incorporate thigh high stockings into your wardrobe, it is important not to veer into a territory that is overly revealing. The trick to pulling off wearing thigh high stockings is that you should be the only person in the room who knows that your hosiery only goes up to your thigh. To the rest of the world, the coverage should appear seamless. Skirt length is important when it comes to wearing thigh high stockings correctly. You want to make sure that your skirt is at least three to five inches longer than the start of each stocking. Before you leave the house, always bend down in front of a mirror to ensure that such a maneuver does not expose any of the skin on your thigh.

Gabriella Vera thigh highs from Pantyhose
Rock Star Status
If you aspire to have an edgy look, thigh high stockings can help you achieve it. A recent fashion trend which has cropped up among young Hollywood stars is to team a pair of ripped shorts with thigh high stockings in a way that exposes the seam and your bare skin. This is a contemporary and "in your face" look which breaks all the fashion rules usually associated with stockings. When it comes to lingerie and leg wear, things can only go up from here. If you love the look of pantyhose with the freedom of bare legs, kick up your feet and climb into a pair of thigh highs!