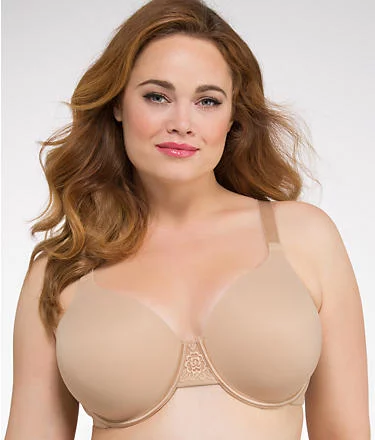 I love the idea of walking into a lingerie store and draping myself in colorful concoctions of lace and satin. Sadly, most pretty bras are designed for women with smaller breasts. Unfortunately, as someone with a larger cup size, I'm usually stuck choosing between the uncomfortable, the ugly, and the impractical.
I recently decide to try a Vanity Fair Bare Necessities style in size 40DDD. This style usually runs about $30.00 but like most brands, any cup size over a "D" costs at least $5.00 extra. Mine cost about $40.00. I chose the Bare Necessities style because it was advertised as a, "no-show" bra. Most choices available for larger cup sizes have seams, which makes them almost impossible to wear under anything but a sweater, much less the clingy fabrics that are currently in style.
It is less visible under clothes than others I tried on, though the fabric in the cups does have a tendency to pucker and wrinkle in odd places. The cups are slightly padded, which is common negative factor I've found with most manufacturers, but the padding is slight and adds to the support provided by the garmeant, instead of to the bust size. I love the fact that the straps are slightly padded and that the elastic and underwire are all double stitched. It's one of the few bras I've owned that hasn't given out along the underwire after a few months.
I bought mine in beige but there were a number of other colors available, which was a refreshing change. The only real downside is the fact that the cups are cut a little too high. The current style of shirts is a little low cut, so it would be nice if the cups were just a little lower in the front. It's probably the most comfortable bra I've ever owned, and I will probably order a few more in some fun colors.