With the holidays behind us and summer fast approaching the struggle to get bikini ready looms over us. Those few months of too many desserts, and overabundance of wine can wreak havoc on a girl's figure! Many of us have recommitted to our workout regimes and started to eat healthier. So of course, when we hear about something that guarantees a slimmer midsection in a few weeks without much effort—we are wondering if waist training really works.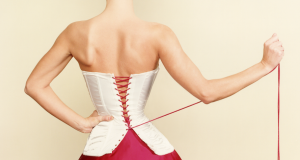 Waist training is wearing a corset-like contraption to cinch your core and hips. The idea is to wear this medieval device for the majority of the day in hopes that it will eventually "mold" your body into a slim hour glass shape. Celebrities like Jessica Alba and most the of the Kardashian sisters have endorsed the waist training. Jessica Alba claimed it helped her lose weight and get back to pre-baby figure after both of her kids. Khloe Kardashian has posted multiple photos on social media with her waist trainer on while working out or you just hanging out in her ridiculously big closet. So the big question is does it work and is it really safe to cinch your body and organs in this device for hours on end?
Does Waist Training Work?
Christopher Ochner, Ph.D., weight loss and nutrition expert at Mount Sinai Hospital has said "When you wear this 500-year-old device, you squish your lungs and ribs, which makes it hard to breathe. (Duh.) Some women have actually passed out from wearing one for too long" He also warns that if the tight corset or waist trainer is worn too long it could actually crush organs or your ribs. There is also evidence that spot reducing does not work, so if you are trying to loose that muffin top, adopting a healthier lifestyle and eating clean will reduce your overall body fat. You body will become leaner all over and your waist will widdle away without having to fight for breathe in a corset for 13 hours a day. Just think of what it would be like to fasten the thing up everyday. In the time you take to get dressed you could probably fit in a quick 10 minute daily ab routine. We are all for making things easy but when it comes to your health it may be best to take the traditional route and just get your ass into the gym! Just saying.