They always sound fantastic in theory, and what better way to get the best bang for your buck than a single bra that transforms itself into all of your brassiere needs? You may have already long since given up on convertible bras, particularly if you found yourself in the dressing room drowning in various straps and hooks, trying to figure out how exactly make it work as racerback bra.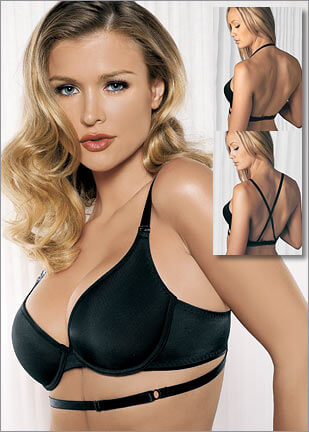 The convertible bra became especially popular during the early 2000s when spaghetti straps and halter tops were "all the rage." Like any other bra, selecting a convertible bra that properly fits is absolutely vital. Unfortunately, the selection of convertible bras is usually more limited. That means that as badly as you may want that 3 in 1 swanky, strap switching bra, you're betting off waiting until you find a style that correctly fits your body. If you've found a multi-way bra that you like, you may still be a bit confused about the multi-ways that you can actually wear it. In fact, Wonderbra has a Multi Plunge Bra that can be worn in over 100 different ways. With about 20 different clips to hook straps into, no wonder things can get a bit complicated. For most of your basic clothing needs, you will use the strapless, halter top and racerback styles. Strapless is generally pretty self explanatory to figure out, however, before your purchase any bra make sure to try it out strapless. You might think that it's a great fit and then be wildly disappointed as you get ready for a night out in your strapless outfit.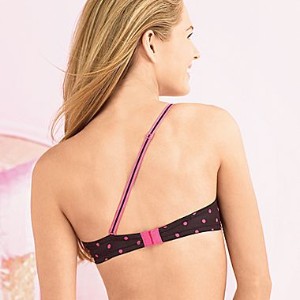 The halter top is an incredibly useful style to have in your arsenal especially during the spring/summer season. To convert your bra into a halter top style, you will need only one strap. Lengthen the strap slightly, then look for the clips on the front of the bra; there should be a clip on each side to hook the strap into, completing the halter. Next up is the racerback style. This comes in handy for wearing tank tops with racerbacks. Using the same clips as for "normal" strap wear, simply criss cross the straps in the back and voila, your racerback is ready is to go. If you're feeling experimeantal, other unique ways to multi-way bras include: a reverse racerback with the criss-cross in the front, one strap "toga" style or one strap crossed diagonal across the front.