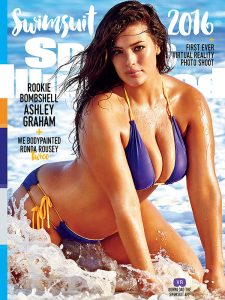 We are overjoyed that a plus size model was recently chosen for the coveted cover of The Sports Illustrated Swimsuit Issue. The cover model has historically been a female sports figure, bikini model, or Victoria Secret Angel. Finally someone that looks more like the rest of the female population was given the spot. Unless you have been living on Mars or under a rock somewhere you know who Ashley Graham is. You may have also noticed that the stunning Ashley has been on the cover of like 1,789 magazines in the past year. Well not really that many but she has been everywhere. Nice work, plus size model girl! Ashley's positive body image and outlook on her size has helped empower women everywhere. The message is clear, it does not matter your size beauty comes in many different shapes, colors and sizes. Before Ashley came into popularity there was Emme. Emme gained worldwide fame in 1994 as the first full figured model to be featured in the annual People Magazine's 50 Most Beautiful People twice. Her premier was in the 1994 issue with a repeat in 1999. Emme has also been avid body image advocate. She was awarded The Glamour Woman of the Year Award. With the emergence of plus size models in mainstream fashion magazines we found a few girls to keep on your radar.
Robyn Lawley
Robyn was born in Australia. In 2015 she was featured in the Sports Illustrated Swimsuit Issue. Robyn has been quoted by saying "it's 'degrading' to consider a Size 14 woman plus-size." She believes that the national average size in the US is a size 14. Why should there be a need segregate a women who is not size 4.
Chenese Lewis
Chenes is from Baton Rouge LA, she is a strong advocate for body image. Lewis is a former President of Hollywood NOW National Organization for Women and also served as the Love Your Body Committee Chairperson. Chenese is the host of the #1 Podcast for Plus Size Woman- The Chenese Lewis Show! She was also named one of Ebony.com's "6 Plus Fashion Power Players On The Rise".
Tara Lynn
Tara was recently featured in a nationwide Forever 21 campaign. She was also chosen as the cover model for ELLE magazine in Spain. MJ Day the editor of Sports Illustrated has said "Beauty is not cookie-cutter. Beauty is not 'one size fits all.'" We've all heard similar refrains countless times, from both media outlets and brands whose actual representation of women would beg to differ. Lately, though, a growing number of them are beginning to put their money where their mouths are by hiring models who don't fit the typical size zero mold, making curvy plus size models like Ashley Graham. We love the positive message it gives to all women, feel empowered by who you are and how you look. You are you, no one else can be you..and that is your power!